Dear Spartan Client,
"Success is a lousy teacher. It seduces smart people into thinking that they can't lose." –Bill Gates
As we begin transitioning to a post-COVID world, optimism and confidence about the future run high. This is indeed a great thing for families, businesses, schools, and all who have suffered during the past year of unprecedented change. However, when it comes to markets, this optimism can be dangerous because it potentially leads to complacency. In our desire to keep you in the best place to reach your goals, we will fight against complacency because the future is always uncertain.
Below are the asset classes utilized in our portfolios and their model-driven exposure heading into April.  

Disclaimer: this note is for general update purposes related to the general strategy and approach of Spartan Planning portfolios. Every client's situation including Risk Profile, Time Horizon, Contributions, and Distributions is different from other clients. Your exposure to any given asset class will depend on your goals, risk profile, and how tactical or passive your risk profile calls for. If there have been changes to your risk profile and/or goals or if you wish to discuss them in more depth, please contact your advisor.
AT A GLANCE: ALLOCATION ADJUSTMENTS HEADING INTO APRIL, 2021
U.S. Equities: Increasing exposure in Growth and Moderate Growth Strategies by taking on a portion of the allocations vacated by alternatives. Balanced and Conservative strategies will be unchanged. Rising trends remain across both the intermediate- and long-term timeframes.
International Equities: No change to exposure, which is at its baseline allocation, with uptrends remaining across both timeframes.
Real Estate: No change. Exposure is at its baseline allocation, and there are uptrends in both timeframes.
Intermediate-Term Fixed Income: No change. Exposure remains at its baseline allocation due to intermediate- and long-term downtrends for both domestic and international bonds.
Inflation-Protected Bonds: No change in Growth and Moderate Growth strategies due to an intermediate-term downtrend and long-term uptrend. Exposure will increase in Balanced and Conservative strategies, as it takes on exposure vacated by gold.
Short-Term Fixed Income: Unchanged, as it remains in downtrends across both timeframes.
Alternatives: Decreasing, as the long-term trend in gold joins the intermediate-term in a downtrend.
Asset Level Overview
Equities and Real Estate
For the third straight month, U.S. equities opened strong, making new highs, before retreating toward the end of the month. Despite this see-sawing pattern, as we enter April, uptrends remain unbroken and thus the largest allocation in our strategies will continue to be centered in the U.S. and across equities. For all of the potential headwinds that we will discuss later in this note, asset prices continue to reflect optimism in U.S. stocks.
Looking abroad, the overall trend picture is the same as the U.S., but conviction is not as high. Like the U.S., foreign developed and emerging markets stocks weakened as March progressed, but without a fresh high earlier in the month leaving the two foreign equity asset classes much closer to intermediate-term downtrends.  For now, though, their uptrends remain intact.
For the first time in a while, real estate has been the strongest asset class we track, and was on pace for the highest return in March compared to all the asset classes utilized in our strategies. This is likely driven in part by the Fed's commitment to maintaining lower rates against the backdrop of continued high demand and subsequent upward pressure on prices. Spartan will remain at its maximum allocation to real estate as we enter April.
Fixed Income and Alternatives
As we highlighted in last month's note, fixed income continues to underperform. Treasury and aggregate bond indexes lost ground in March. Inflation-indexed bonds again outperformed their nominal counterparts, but not spectacularly. Only bonds, both short in duration and tied to inflation, generated solid performance throughout Q1.
Despite what would seem to be a favorable environment for alternative investments, gold has failed to take advantage. With full downtrends, as seen with Gold, Spartan's process calls for either handing this exposure to better performing equities, or opportunistically moving it within the fixed income segment depending on the strategy's aversion or comfort with risk. 
Three potential macro catalysts for the recent trend changes:
Mo' Money:

The U.S. government sent a third round of relief payments to households – $1,400 to roughly 90 million adults so far, totaling about $242 billion. That is on top of $600 per recipient payments sent in December and $1,200 sent earlier last year, which in total will add up to more than $800 billion. The Biden administration indicated that it would like to add a fourth round of stimulus checks in addition to a rumored $3 trillion infrastructure plan.

Housing Mania:

Starting in October of 2020 and holding ever since, there are more real estate agents than homes for sale in the U.S, which has happened only once before in December 2019. At the end of January, there were 1.04 million homes for sale, down 26% from a year earlier.

Continued Rising U.S. Interest Rates:

10-year Treasury yields continue to increase since the Corona-crash. The Federal Reserve is still reiterating its asset purchasing program for the foreseeable future and maintaining zero-bound rates on the short end of the Treasury curve. The difference between the 2-year Treasury and the 10-year Treasury is the highest, or steepest, it has been since 2015.
TAKING STOCK OF Q1
As we pass the 1st anniversary of COVID-19 disrupting our daily lives, as well as the first 90 days of a new presidential administration in the U.S., we wanted to spend a few paragraphs taking inventory of the current environment as we head into Q2. U.S. equities continue to be the leaders, with many non-equity asset classes in negative- or barely-positive territory so far in 2021. Chief among the underperformers were fixed income investments, which we covered in last month's note. The continuation of rising rates once again generated poor bond performance throughout March.
Diving deeper into U.S. equities reveals almost a complete flip from 2020 in terms of which equity factors are driving performance. Whereas growth and tech stocks dominated in 2020, they are now near the bottom, and both were negative heading into April. Conversely, value and dividend stocks, which suffered significant drawdowns in 2020 and dramatically underperformed their growth peers, have become the leaders and produced strong returns in the first quarter. On a less dramatic scale, industrials have also come into favor after lagging in 2020.
In 2020, unless you were disproportionately invested in very specific sectors or factors, you may have received an overall portfolio return below the long-term average. In 2021, this is again true, but with an almost opposite set of holdings. This disparity highlights a concept we believe to be very important and which we believe strengthens the case for our systematic, yet agnostic approach from a style perspective.
A Scientific Approach
A helpful tool for illustrating the importance of diversification is the "periodic table" of asset class performance. Borrowing from chemistry, this table shows calendar years from left to right, with individual asset classes lining up under each year in descending order of their performance. The chart shows how one asset class can vary widely from one year to the next, going from a top performer to one of the worst.
We worked with our institutional investment partner, Blueprint, to create a custom version of the periodic table that adds:
a buy-and-hold diversified portfolio to show the impact of asset class diversification, and

a trend-followed diversified portfolio (our risk-managed Growth model) to illustrate the effect of our disciplined process..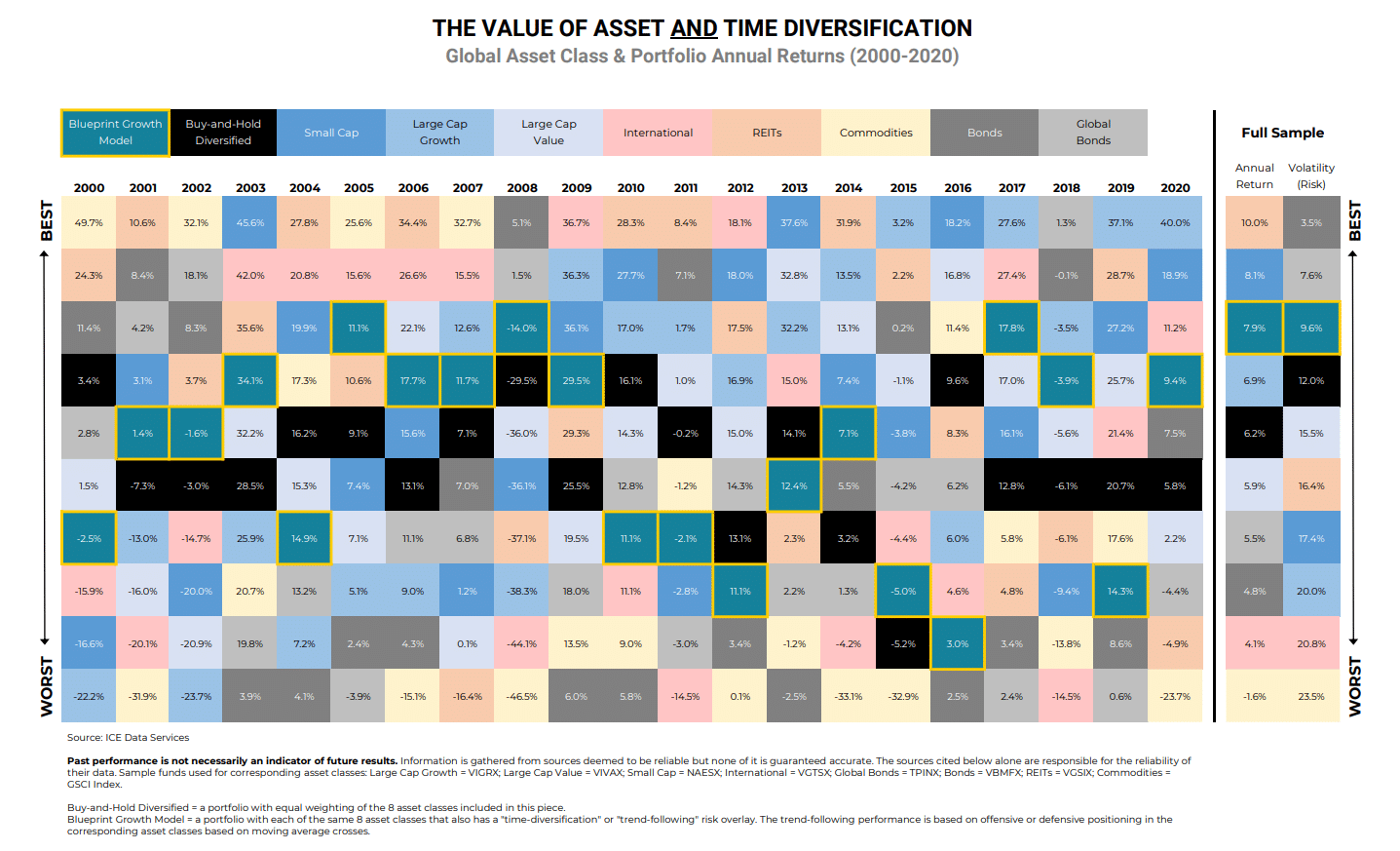 Click here to view the full chart.
This chart highlights the benefits of using a systematic approach. The way we manage risk showed calendar year returns only occasionally near the top, but also (and more importantly) rarely near the bottom. The final result over the full time period is a more equity-like return profile, but a more bond-like risk/volatility profile. Reviewing historic data, as shown in the table, continues to reiterate the reason why we use an adaptable and disciplined system.
Thank you for allowing us to serve you.
David Childs, Ira Ross, Blaise Stevens, and Eric Warren
Spartan Planning

Disclaimer: this note is for general update purposes related to the strategy and approach of Spartan Planning portfolios. Every client's situation including Risk Profile, Time Horizon, Contributions, and Distributions is different from other clients. Your particular exposure to any given asset class will depend on your goals, risk profile, and how tactical or passive your risk profile calls for. If there have been changes to your risk profile and/or goals or if you wish to discuss them in more depth please contact your advisor. This email and the data herein is not a solicitation to invest in any investment product nor is it intended to provide investment advice. It is intended for information purposes only and should be used by investment professionals and investors who are knowledgeable of the risks involved. No representation is made that any investment will or is likely to achieve results comparable to those shown or will make any profit at all or will be able to avoid incurring substantial losses. While every effort has been made to provide data from sources considered to be reliable, no guarantee of accuracy is given. Historical data are presented for informational purposes only. Investment programs described herein contain significant risks. A secondary market may not exist or develop for some investments portrayed. Past performance is not indicative of future performance. Investment decisions should be made based on the investors specific financial needs and objectives, goals, time horizon, tax liability, risk tolerance and other relevant factors. Investments involve risk and unless otherwise stated, are not guaranteed. Be sure to first consult with a qualified financial adviser and/or tax professional before implementing any strategy discussed herein. Investors should consider the underlying funds' investment objectives, risks, charges and expenses carefully before investing. The Advisor's ADV, which contains this and other important information, should be read carefully before investing. ETFs trade like stocks and may trade for less than their net asset value. Spartan Planning Group, LLC ("Spartan" or the "Advisor") is registered as an investment adviser with the United States Securities and Exchange Commission (SEC). Registration does not constitute an endorsement of the firm by the SEC nor does it indicate that the Adviser has attained a particular level of skill or ability. Indexes are unmanaged and do not incur management fees, costs, and expenses. Spartan's risk-management process includes an effort to monitor and manage risk, but should not be confused with and does not imply low risk or the ability to control risk. There are risks associated with any investment approach, and Spartan strategies have their own set of risks to be aware of. First, there are the risks associated with the long-term strategic holdings for each of the strategies. The more aggressive the Spartan strategy selected, the more likely the strategy will contain larger weights in riskier asset classes, such as equities. Second, there are distinct risks associated with Spartan Strategies' shorter-term tactical allocations, which can result in more concentration towards a certain asset class or classes. This introduces the risk that Spartan could be on the wrong side of a tactical overweight, thus resulting in a drag on overall performance or loss of principal. International investments may involve additional risks, which could include differences in financial accounting standards, currency fluctuations, political instability, foreign taxes and regulations, and the potential for illiquid markets. Investing in emerging markets may accentuate these risks. Diversification strategies do not ensure a profit and do not protect against losses in declining markets