Dear Spartan Client,
"Move not unless you see an advantage; use not your troops unless there is something to be gained; fight not unless the position is critical."
—Sun Tzu, "The Art of War"
Over the past several months, we have consistently been asked if 2022 is unique in market history.
As systematic investment managers, we rest on data. So, we looked at the percentage and magnitude of negative days so far this year to at least get started down the path to answering this question. The table below shows the percentage of days the S&P 500 was negative for the first half of 2022 and during the prior 94 years of data.

The data shows that 2022 has been unique in terms of its downside volatility, as measured by the portion of days with performance down 1% or more. In fact, the percentage of days thus far that performed worse than -2% is more than double the historical average.
In this month's Note, we continue to make the case for patience as we remain in lower amounts of equity exposure. Historical data suggests the likely negative cost of remaining invested in a downtrending asset outweighs the potential benefit of holding while it is in a downtrending environment. We describe our current defensive positioning and discuss how, for us, "remaining on the sidelines" with certain assets and certain portions of the portfolios equates to taking a better offensive posture over time.
Below are the asset classes utilized in our portfolios and their model-driven exposure heading into August.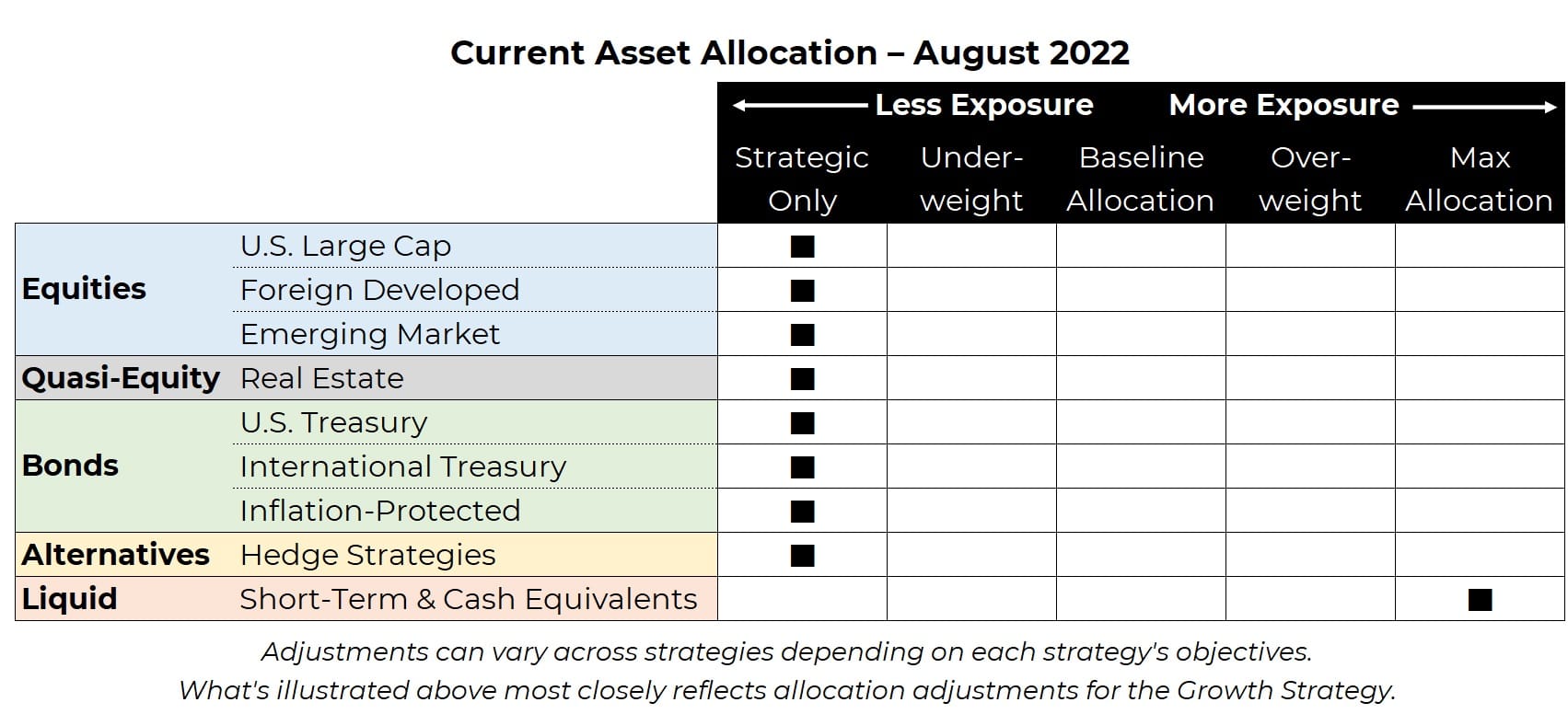 Square indicates no change month-over-month. Arrows indicate increase/decrease month-over-month. Adjustments can vary across Spartan Strategies depending on each Strategy's objectives. What's illustrated above most closely reflects allocation adjustments for the Spartan Growth Strategy.
Disclaimer: this note is for general update purposes related to the general strategy and approach of Spartan Planning portfolios. Every client's situation including Risk Profile, Time Horizon, Contributions, and Distributions is different from other clients. Your exposure to any given asset class will depend on your goals, risk profile, and how tactical or passive your risk profile calls for. If there have been changes to your risk profile and/or goals or if you wish to discuss them in more depth, please contact your advisor.
At a Glance: Allocation Adjustments Heading Into August, 2022
U.S. Equities: Exposure will not change from its minimum allocation, as both the intermediate- and long-term timeframes remain in downtrends.
International Equities: Exposure will not change from its minimum allocation, as both foreign developed and emerging markets remain in downtrends across both timeframes.
Real Estate: Exposure will not change from its minimum allocation, as both the intermediate- and long-term timeframes remain in downtrends.
U.S. and International Treasuries: Exposure will not change and is at its minimum allocation due to downtrends across both timeframes.
Inflation-Protected Bonds: Exposure will not change and is at its minimum due to downtrends across both timeframes.
Short-Term Fixed Income:  Exposure will not change, as it is already at its max allocation due to previously taking on exposure from equities, real estate, alternatives, and longer-duration fixed income.
Alternatives: Exposure will not change and is at its minimum allocation due to downtrends across both timeframes.
Three potential macro catalysts for the recent trend changes:
Economy Slowing:

New applications for unemployment benefits reached their highest point since late last year. Initial jobless claims, a proxy for layoffs, rose to a seasonally adjusted 251,000 in the week that ended July 16, up from 244,000 the week prior, according to a report from the Labor Department. These levels are above the 2019 pre-pandemic weekly average of 218,000 when the labor market was also strong. These figures are the highest since last November.

Housing Slowing:

Mortgage rates continue to climb, with the average rate on a 30-year fixed rate up to 5.54%, as reported by mortgage-finance giant Freddie Mac. A year ago, rates were around 2.8%. The U.S. housing market has slowed significantly after two record years. Refinance activity was 80% lower and purchase activity was 19% lower than the same week last year.

Inflation Slowing:

There is more data suggesting that price pressures are easing, and June's 9.1% increase in consumer prices could be the peak. However, even if inflation does decrease with the next report, economists expect a slow pace of decline. Gasoline prices have fallen around 10% from their mid-June high point, wheat futures prices have fallen by 37% since mid-May, and corn futures prices are down 27% from mid-June. "It's a step in the right direction, but ultimately, even if June is the peak, we're still looking at an environment where inflation is too hot," says Sarah House, senior economist at Wells Fargo, who expects fourth-quarter inflation to be 7.5% to 7.8%. "So peak or not, inflation is going to remain painful through the end of the year."
Move Not
The beauty of systematic investing is that if you are doing it correctly, there is no need for angst about your next move with portfolios. All of the decision-making is resolved in the strategy-building phase, which for us was almost 10 years ago now. Once you have a robust process, you simply follow the rules and focus all your energy on execution and longer-term enhancements.
As we utilize a systematic process that takes defensive positions when equities are declining globally, like in 2022, there comes a point when you have made all the moves you can at the moment. From here, we wait until conditions change.
As we close July and enter August, that is precisely where we sit. We're waiting and watching.
Much like the repetition of muggy summer days, mostly sitting out of the market and watching as it moves sideways or even rallies before making new lows starts to feel a little mundane. Even for a firm like ours, that prides itself on downside protection, it is much more enjoyable to watch account values increase than sit and wait in a defensive position. Avoiding losses while markets are falling mathematically has a bigger impact on your long-term rate of compounding than does outperforming to the upside, but it certainly doesn't always feel as fun and exciting.
In times like this, we're also reminded of the ever-present question related to trend following: If it's so great, why doesn't everyone do it? We think the answer is tied to how much discipline and patience it takes to always follow the data. For non-trend-followers, the allure of trying to pick a bottom (and a top) is very strong, not just because of what it can potentially do to an account value if their guess is correct but also because of how it strokes the ego. But the reality is this: often during bear markets, the better bet is to wait out counter-trend rallies. Take the bursting of the tech bubble as an example. The Nasdaq experienced a more than 70% decline from peak to trough, but it also had rallies of 40%, 28%, 41%, 50%, and 36% during this enormous market crash. Given the ultimate decline, peak to trough, it paid to largely sit on the sidelines despite these massive short-lived bear market rallies. How impossible of a task it would have been to perfectly time each of those rallies while avoiding the subsequent declines? We think this example highlights why patience is prudent even when it's not fun.
It is also worth noting that we take heart in the fact that things can change quickly. It typically takes only 30 or so days for our more responsive rules to engage, which would soon have us participating in any burgeoning uptrends. Our longer-term rules are, of course, slower to respond, but that allows for trends to "prove themselves."
In conclusion, we hope you are enjoying this season, and resting in the process we have created. We continue to vigilantly monitor our systems and stand ready to engage when conditions are favorable. For now, however, we wait for conditions to change.
As always, thank you for the opportunity to help guide you and your family toward a stress-free financial life.
David Childs, Ira Ross, and Eric Warren
Spartan Planning
Disclaimer: this note is for general update purposes related to the strategy and approach of Spartan Planning portfolios. Every client's situation including Risk Profile, Time Horizon, Contributions, and Distributions is different from other clients. Your particular exposure to any given asset class will depend on your goals, risk profile, and how tactical or passive your risk profile calls for. If there have been changes to your risk profile and/or goals or if you wish to discuss them in more depth please contact your advisor. This email and the data herein is not a solicitation to invest in any investment product nor is it intended to provide investment advice. It is intended for information purposes only and should be used by investment professionals and investors who are knowledgeable of the risks involved. No representation is made that any investment will or is likely to achieve results comparable to those shown or will make any profit at all or will be able to avoid incurring substantial losses. While every effort has been made to provide data from sources considered to be reliable, no guarantee of accuracy is given. Historical data are presented for informational purposes only. Investment programs described herein contain significant risks. A secondary market may not exist or develop for some investments portrayed. Past performance is not indicative of future performance. Investment decisions should be made based on the investors specific financial needs and objectives, goals, time horizon, tax liability, risk tolerance and other relevant factors. Investments involve risk and unless otherwise stated, are not guaranteed. Be sure to first consult with a qualified financial adviser and/or tax professional before implementing any strategy discussed herein. Investors should consider the underlying funds' investment objectives, risks, charges and expenses carefully before investing. The Advisor's ADV, which contains this and other important information, should be read carefully before investing. ETFs trade like stocks and may trade for less than their net asset value. Spartan Planning Group, LLC ("Spartan" or the "Advisor") is registered as an investment adviser with the United States Securities and Exchange Commission (SEC). Registration does not constitute an endorsement of the firm by the SEC nor does it indicate that the Adviser has attained a particular level of skill or ability. Indexes are unmanaged and do not incur management fees, costs, and expenses. Spartan's risk-management process includes an effort to monitor and manage risk, but should not be confused with and does not imply low risk or the ability to control risk. There are risks associated with any investment approach, and Spartan strategies have their own set of risks to be aware of. First, there are the risks associated with the long-term strategic holdings for each of the strategies. The more aggressive the Spartan strategy selected, the more likely the strategy will contain larger weights in riskier asset classes, such as equities. Second, there are distinct risks associated with Spartan Strategies' shorter-term tactical allocations, which can result in more concentration towards a certain asset class or classes. This introduces the risk that Spartan could be on the wrong side of a tactical overweight, thus resulting in a drag on overall performance or loss of principal. International investments may involve additional risks, which could include differences in financial accounting standards, currency fluctuations, political instability, foreign taxes and regulations, and the potential for illiquid markets. Investing in emerging markets may accentuate these risks. Diversification strategies do not ensure a profit and do not protect against losses in declining markets