Dear Spartan Client,
"Based on my own personal experience – both as an investor in recent years and an expert witness in years past – rarely do more than three or four variables really count. Everything else is noise." – Marty Whitman
The quote above is valuable to remember, especially now, as noise pervades financial media outlets. From Bitcoin to GameStop, it's easy to become distracted from what really matters. In that spirit, the incessant talk of "bubbles" is a topic that we address in this month's note. Are we in a bubble? If so, what are the impacts? We address this by looking at the multitude of predictions claiming a bubble since the global financial crisis, as well as how it relates to meeting client goals and staying committed to a quality process.
But first, below are the asset classes utilized in our portfolios and their model-driven exposure heading into February.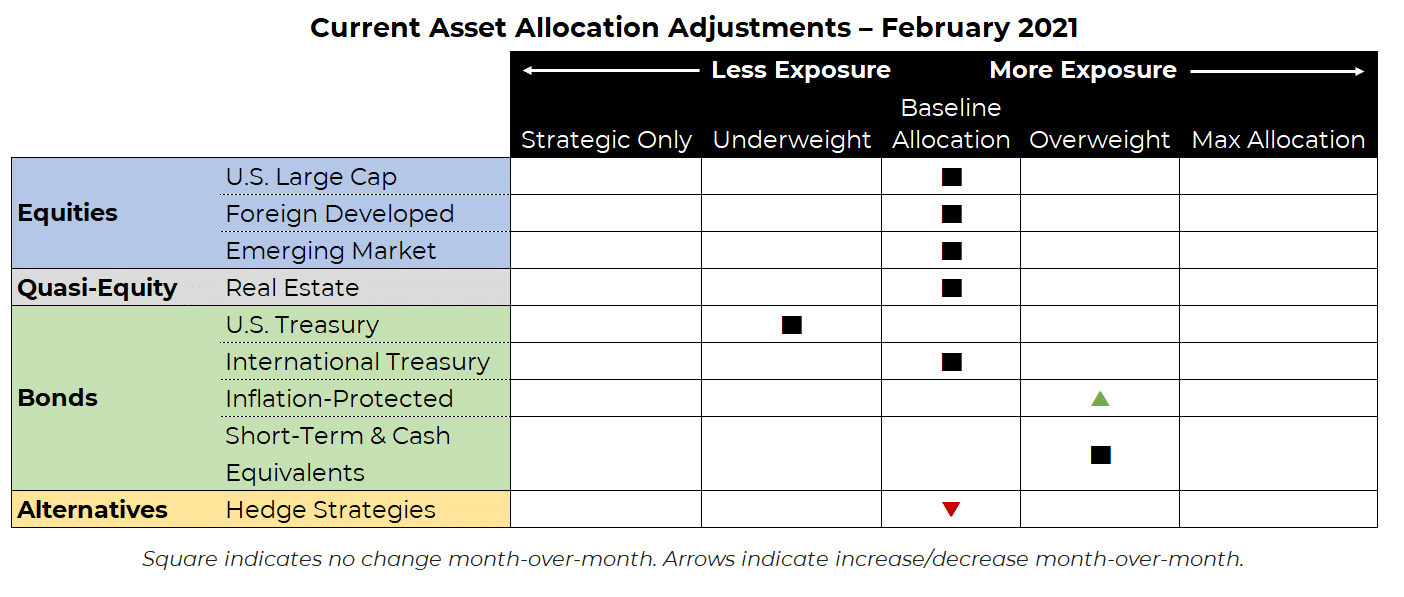 At a Glance: Allocation Adjustments heading into February, 2021
U.S. Equities: Unchanged from last month. Our portfolios remain at their baseline allocation, as there are uptrends across the intermediate and long term.

International Equities: No change to exposure, which is at its baseline allocation, with uptrends remaining across both timeframes.

Real Estate: No change. Exposure is at its baseline allocation, with uptrends in both timeframes.

Intermediate-Term Fixed Income: No change to exposure. The intermediate-term downtrend and long-term uptrend in U.S. Treasuries remains intact. International bonds remains at its baseline allocation with uptrends intact.

Inflation-Protected Bonds: Increasing after taking on exposure vacated by alternatives due to an intermediate-term downtrend in gold. Uptrends remain in place across both timeframes.

Short-Term Fixed Income: No change to exposure and remains overweight with exposure currently being vacated by intermediate-term U.S. Treasuries.

Alternatives: Decreasing due to the return of an intermediate-term uptrend in gold. The long-term uptrend remains intact.
Asset Level Overview
Equities and Real Estate
The year began in much the same manner 2020 ended, with U.S. equity markets broadly advancing to new highs. In fact, the "risk-on trade" has been so prevalent that emerging market and small cap stocks have been the best performers year-to-date. Real estate continues to lag and remains well off its Q1 '20 high but was positive at the end of January. Spartan portfolios continue to be at target allocations in these asset classes and participating in the strong performance.
Fixed Income and Alternatives
As has been the case for several months now, U.S. Treasury bonds and notes continue to lag as investors pursue opportunities elsewhere. International bonds joined their U.S. counterparts in negative territory for January but remain in uptrends. The notable exception within fixed income remains inflation-indexed bonds, which are on pace to finish positively headed into February. Within the alternatives bucket, gold continued to consolidate, following December's increase with declines so far in 2021.
Three potential macro catalysts for the recent trend changes:
New Stimulus Bill Proposed: The Biden administration introduced a $1.9 trillion economic rescue plan that includes another round of stimulus checks and an increase in the national minimum wage.

Positive Coronavirus News: Daily mortality rates and hospitalizations showed signs of moderation as the "curve" is beginning to flatten throughout the U.S.

Mixed Economic Data: Weekly jobless claims throughout January were at multi-month highs, even as wages increased to their highest rate since early 2020. The housing sector remained strong, with existing home sales and housing starts at their highest levels since 2006.
Without Question a Bubble… Maybe?
With equities now beginning year 13 of the bull run that started after the financial crisis, we have obviously now officially reached what many would call bubble status. Haven't we? Investors should now begin reducing exposure and preparing for the worst. Shouldn't they?
It is easy to look at returns, particularly in markets like Bitcoin – or stocks like Tesla or the FAANGs – and believe the "bubble" hype. With these bubble calls becoming a regular, annual tradition, perhaps the most problematic point for investors, having bought into the "the bubble is about to burst" thinking, is failing to fully participate in the positive traction of the market. Take a look at the "bubble call" in headlines over the last several years.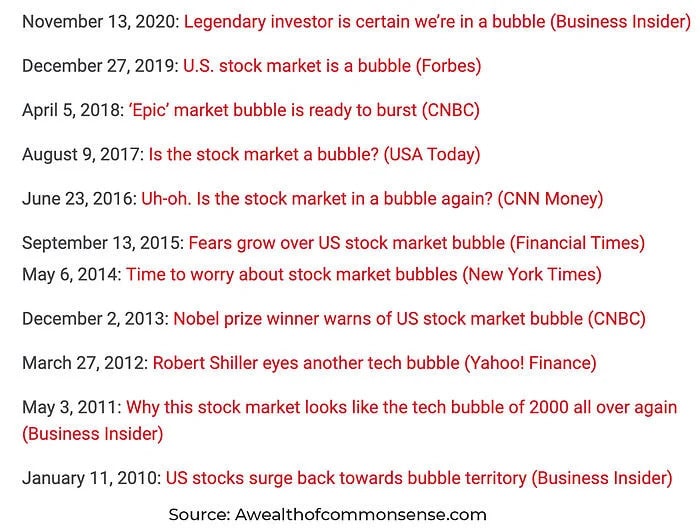 Now, to be clear – we are not attempting to confirm nor deny the existence of a bubble. As our client, hopefully you know prediction is not what we do. Our point, besides the illustration of yet another example of predictions gone wild, is that forming a belief about the markets (i.e. "We are in a bubble!") without a process can seriously harm progress toward meeting your goals.
When asked whether we are in a bubble, it may seem cavalier to respond , "Does it matter?". But our goal, and the reason we have a systematic process to respond to whatever market event occurs, is to try to stay emotionally neutral and simply respond to what becomes evident. An analogy we constantly return to is this: Let's make hay while the sun is out. If it begins to lightly drizzle, we'll put on a rain jacket and continue work. If it starts to pour, let's go back to the barn and work on something else until the sun comes back out. If we were to follow the prevailing emotional response to predictions, the analogy would go something like this: I want to make hay today but the forecast says it might rain at noon. At 11:00am I'm going inside to stop work for the day, there is no chance I am going to get wet out there.
Many times there is an intellectual disconnect with investing and unemotional logic, leading to a suboptimal outcome. Hopefully, by building a strategy in response to historical data and removing our emotional biases, we have given you comfort that your end goals are our focus, not guessing at the next big thing to occur.
Seattle Seahawks Quarterback Russell Wilson spends a tremendous amount of his preparation on the psychological aspects of success. His focus is to stay neutral, having his actions neither overly swayed by positive nor negative circumstances. "The easiest way to start, in my opinion, is to first write out where you want to go," Wilson said. "What's my end destination? Then I think about where I am currently, right now. Then I think about the necessary steps to get there."
You have your end destination in mind, it is our job to help you get there. We will always keep that destination as our focus, and in a disciplined fashion, respond to events in the world, bubble or otherwise, to get you there.
Best,
David Childs, Ira Ross, Blaise Stevens, and Eric Warren
Spartan Planning
Disclaimer: this note is for general update purposes related to the strategy and approach of Spartan Planning portfolios. Every client's situation including Risk Profile, Time Horizon, Contributions, and Distributions is different from other clients. Your particular exposure to any given asset class will depend on your goals, risk profile, and how tactical or passive your risk profile calls for. If there have been changes to your risk profile and/or goals or if you wish to discuss them in more depth please contact your advisor. This email and the data herein is not a solicitation to invest in any investment product nor is it intended to provide investment advice. It is intended for information purposes only and should be used by investment professionals and investors who are knowledgeable of the risks involved. No representation is made that any investment will or is likely to achieve results comparable to those shown or will make any profit at all or will be able to avoid incurring substantial losses. While every effort has been made to provide data from sources considered to be reliable, no guarantee of accuracy is given. Historical data are presented for informational purposes only. Investment programs described herein contain significant risks. A secondary market may not exist or develop for some investments portrayed. Past performance is not indicative of future performance. Investment decisions should be made based on the investors specific financial needs and objectives, goals, time horizon, tax liability, risk tolerance and other relevant factors. Investments involve risk and unless otherwise stated, are not guaranteed. Be sure to first consult with a qualified financial adviser and/or tax professional before implementing any strategy discussed herein. Investors should consider the underlying funds' investment objectives, risks, charges and expenses carefully before investing. The Advisor's ADV, which contains this and other important information, should be read carefully before investing. ETFs trade like stocks and may trade for less than their net asset value. Spartan Planning Group, LLC ("Spartan" or the "Advisor") is registered as an investment adviser with the United States Securities and Exchange Commission (SEC). Registration does not constitute an endorsement of the firm by the SEC nor does it indicate that the Adviser has attained a particular level of skill or ability. Indexes are unmanaged and do not incur management fees, costs, and expenses. Spartan's risk-management process includes an effort to monitor and manage risk, but should not be confused with and does not imply low risk or the ability to control risk. There are risks associated with any investment approach, and Spartan strategies have their own set of risks to be aware of. First, there are the risks associated with the long-term strategic holdings for each of the strategies. The more aggressive the Spartan strategy selected, the more likely the strategy will contain larger weights in riskier asset classes, such as equities. Second, there are distinct risks associated with Spartan Strategies' shorter-term tactical allocations, which can result in more concentration towards a certain asset class or classes. This introduces the risk that Spartan could be on the wrong side of a tactical overweight, thus resulting in a drag on overall performance or loss of principal. International investments may involve additional risks, which could include differences in financial accounting standards, currency fluctuations, political instability, foreign taxes and regulations, and the potential for illiquid markets. Investing in emerging markets may accentuate these risks. Diversification strategies do not ensure a profit and do not protect against losses in declining markets