Dear Spartan Client,
During this season of gratitude and new beginnings, we wanted to sincerely thank each of you for what you mean to us, personally and professionally. This holiday season continues to be unlike most, perhaps different than any other we have experienced. Despite that fact, we hope you have been able to find time and make a choice to find joy and rest. We wish each of you a happy new year as we rest on the hopes that 2021 will bring with it some of the "old normal" so many of us long to see again.
Now diving into business – below are the asset classes utilized in our portfolios and their model-driven exposure heading into January.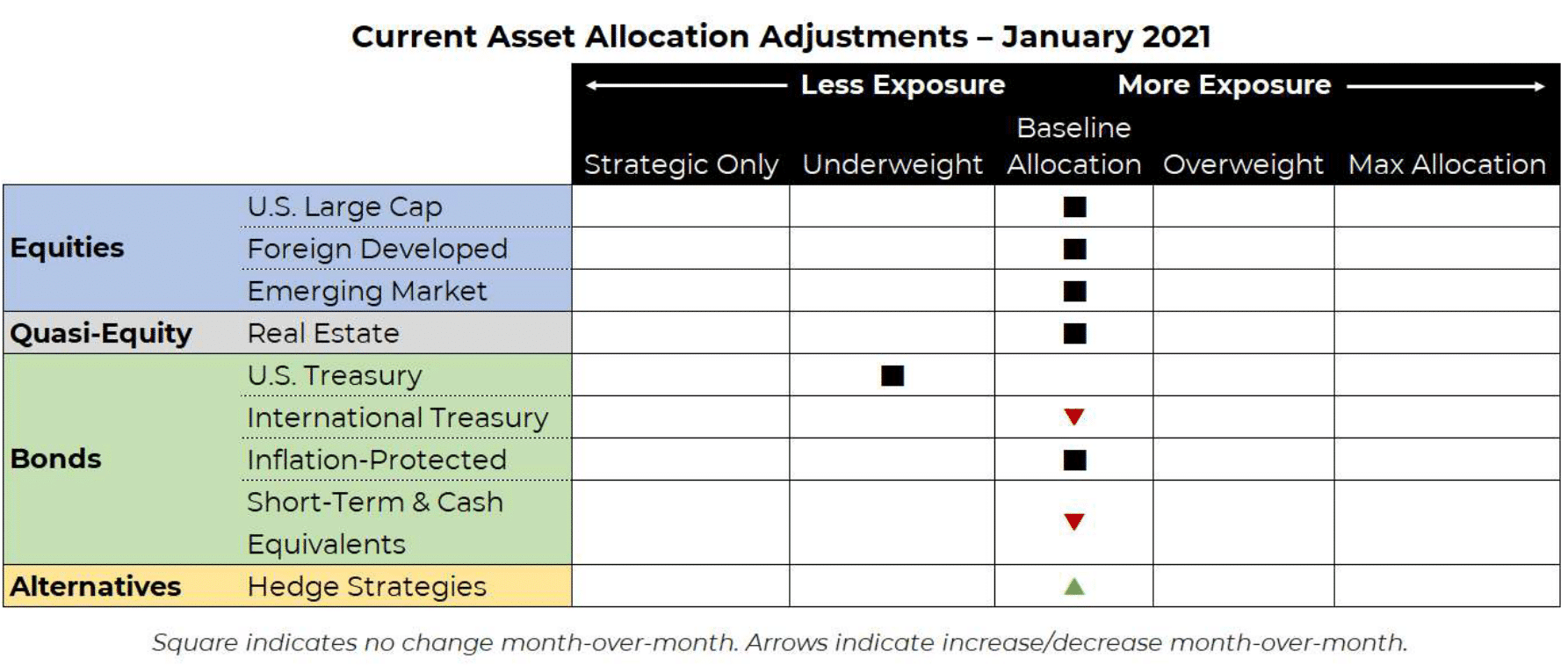 At a Glance: Allocation Adjustments heading into January, 2021
U.S. Equities: Unchanged from last month. Our portfolios remain at their baseline allocation, as there are uptrends across the intermediate and long term.

International Equities: No change to exposure, which is at its baseline allocation, with uptrends remaining across both timeframes.

Real Estate: No change. Exposure is at its baseline allocation, and there are uptrends in both timeframes.

Intermediate-Term Fixed Income: No change to exposure. The intermediate-term downtrend and long-term uptrend in U.S. Treasuries remains intact. International bonds will decrease to its baseline allocation, handing exposure back to alternatives.

Inflation-Protected Bonds: No change to exposure, which is at its baseline allocation, with uptrends remaining across both timeframes.

Short-Term Fixed Income: Decreasing exposure, with allocation returned to alternatives.

Alternatives: Increasing due to the return of an intermediate-term uptrend in gold. The long-term uptrend remains intact.
Asset Level Overview
Equities and Real Estate
In December, equity markets held on to gains after November's unexpected rally, finishing 2020 on a high note. International equities were similarly strong across both developed and developing markets in December. Real estate-related stocks, after achieving their first uptrends since early Q1, ended December mostly flat, lagging equity indices. Equity and real estate allocation across all our portfolios will remain unchanged and at their baseline exposure level as we enter 2021.
Fixed Income and Alternatives
U.S. Treasury bonds and notes continued to lag as investors pursued returns through equities. In contrast, inflation-protected and international bonds both increased month-to-date. Within the alternatives bucket, gold rebounded in December, re-capturing its intermediate-term uptrend as we enter the new year. The overall result will be a slight decrease to fixed income and the return of that exposure to the alternatives allocation.
Three potential macro catalysts for the recent trend changes:
New Stimulus Bill: Congressional leaders overwhelmingly passed a new stimulus bill releasing $900 billion in emergency relief funds into the economy and averted a government shutdown.

Mixed Economic Data: U.S. economic data continued to provide mixed signals. November household incomes fell 1.1%, leading to a 0.4% decline in household spending, while weekly jobless claims declined more than expected. Additionally, durable goods orders increased by 0.9% in November.

Positive Vaccine News: The U.S. continued to experience positive data related to the coronavirus in December. First, new data indicated the virus might be peaking in much of the country. Second, the government reported it had contracted for another 100 million doses of the Pfizer-BioNTech vaccine. Distribution of the first doses of the Moderna vaccine also began late in the month.
A new year, a new hope
If there has been a repeating theme surrounding the year 2021, it would be hope. Hope for recovery, healing, peace, and a return to what we knew of life this time last year. We all sincerely hope for something better, but we have learned so much about ourselves, our nation, and our society from this past year. We will take lessons we have learned through such a challenging year and continually refine the way we guide you to the future goals you're targeting. We don't know what 2021 will be like – better, worse, or just different from what we have been experiencing, but you can be assured our focus is always on guiding you to your goal and through a successful retirement.
Best,
David Childs, Ira Ross, Blaise Stevens, and Eric Warren
Spartan Planning
Disclaimer: this note is for general update purposes related to the strategy and approach of Spartan Planning portfolios. Every client's situation including Risk Profile, Time Horizon, Contributions, and Distributions is different from other clients. Your particular exposure to any given asset class will depend on your goals, risk profile, and how tactical or passive your risk profile calls for. If there have been changes to your risk profile and/or goals or if you wish to discuss them in more depth please contact your advisor. This email and the data herein is not a solicitation to invest in any investment product nor is it intended to provide investment advice. It is intended for information purposes only and should be used by investment professionals and investors who are knowledgeable of the risks involved. No representation is made that any investment will or is likely to achieve results comparable to those shown or will make any profit at all or will be able to avoid incurring substantial losses. While every effort has been made to provide data from sources considered to be reliable, no guarantee of accuracy is given. Historical data are presented for informational purposes only. Investment programs described herein contain significant risks. A secondary market may not exist or develop for some investments portrayed. Past performance is not indicative of future performance. Investment decisions should be made based on the investors specific financial needs and objectives, goals, time horizon, tax liability, risk tolerance and other relevant factors. Investments involve risk and unless otherwise stated, are not guaranteed. Be sure to first consult with a qualified financial adviser and/or tax professional before implementing any strategy discussed herein. Investors should consider the underlying funds' investment objectives, risks, charges and expenses carefully before investing. The Advisor's ADV, which contains this and other important information, should be read carefully before investing. ETFs trade like stocks and may trade for less than their net asset value. Spartan Planning Group, LLC ("Spartan" or the "Advisor") is registered as an investment adviser with the United States Securities and Exchange Commission (SEC). Registration does not constitute an endorsement of the firm by the SEC nor does it indicate that the Adviser has attained a particular level of skill or ability. Indexes are unmanaged and do not incur management fees, costs, and expenses. Spartan's risk-management process includes an effort to monitor and manage risk, but should not be confused with and does not imply low risk or the ability to control risk. There are risks associated with any investment approach, and Spartan strategies have their own set of risks to be aware of. First, there are the risks associated with the long-term strategic holdings for each of the strategies. The more aggressive the Spartan strategy selected, the more likely the strategy will contain larger weights in riskier asset classes, such as equities. Second, there are distinct risks associated with Spartan Strategies' shorter-term tactical allocations, which can result in more concentration towards a certain asset class or classes. This introduces the risk that Spartan could be on the wrong side of a tactical overweight, thus resulting in a drag on overall performance or loss of principal. International investments may involve additional risks, which could include differences in financial accounting standards, currency fluctuations, political instability, foreign taxes and regulations, and the potential for illiquid markets. Investing in emerging markets may accentuate these risks. Diversification strategies do not ensure a profit and do not protect against losses in declining markets