Dear Spartan Client,
"The enemy of a good plan is the dream of a perfect plan."
-Carl von Clausewitz, Prussian General and Military Strategist
Market environments like the one we're currently experiencing have a tendency to push people's emotional buttons, with widespread growth across many asset classes.
Seeing a few sporadic investments experiencing some extreme growth, especially when highlighted in the news, can trigger an emotional response to abandon defined goals and "just make money." In these moments, sticking to a well-researched and defined process can be difficult, especially if that process does not include any of the random assets that are performing best at that moment.
In this month's note, we look at the difference between fear and greed in investing, as well as how those two emotions are actually different sides of the same coin. Additionally, we discuss building resiliency into your financial lives, which can go a long way in helping you reach and maintain your goals.
Below are the asset classes utilized in our portfolios and their model-driven exposure heading into June.

Square indicates no change month-over-month. Arrows indicate increase/decrease month-over-month. Adjustments can vary across Spartan Strategies depending on each Strategy's objectives. What's illustrated above most closely reflects allocation adjustments for the Spartan Growth Strategy. 
Disclaimer: this note is for general update purposes related to the general strategy and approach of Spartan Planning portfolios. Every client's situation including Risk Profile, Time Horizon, Contributions, and Distributions is different from other clients. Your exposure to any given asset class will depend on your goals, risk profile, and how tactical or passive your risk profile calls for. If there have been changes to your risk profile and/or goals or if you wish to discuss them in more depth, please contact your advisor.
At a Glance: Allocation Adjustments Heading Into June, 2021
U.S. Equities: Decreasing exposure in Growth and Moderate Growth Strategies by returning a portion of the allocations previously vacated by gold. Balanced and Conservative Strategies will not change. Rising trends remain across both the intermediate- and long-term timeframes.

International Equities: No change
Real Estate: No change
Intermediate-Term Fixed Income: No change.
Inflation-Protected Bonds: No change.
Short-Term Fixed Income: Unchanged in Growth and Moderate Growth Strategies, but decreasing in Balanced and Conservative as it returns allocations to gold. Trends over both timeframes remain down.
Alternatives: Increasing as uptrends return across all timeframes. Exposure will be taken from U.S. equities for Growth and Moderate Growth portfolios. For Balanced and Conservative, it will come from short-term fixed income.
Three potential macro catalysts for the recent trend changes:
Consumer Confidence:

U.S. consumer confidence decreased in May for the first time this year. Since the index move was small, the headline figure masked a shift in assessments of current economic conditions and short-term economic prospects, which fell to a three-month low. Consumers' short-term optimism retreated, perhaps prompted by expectations of decelerating growth and worsening labor market conditions in the months ahead.

Shop 'Til You Drop?:

A switch from consumer goods to consumer services is at the center of debate for businesses, economists, and policymakers. The question is whether Western consumers' new spending on services will come at the cost of cutting back on spending for goods. A shift away from goods and toward services could ease pressure on factories that have strained to meet demand, bottlenecks in supply chains, scrambles for raw materials, and long delays in shipping.

Crypto Corner:

The rollercoaster in Bitcoin and other cryptocurrencies accelerated last weekend when Bitcoin prices briefly fell below $30,000. This represents a decline of more than half from its highs, and the price is flirting with the lowest levels since late January. Prices for Bitcoin are now back near $40,000 and are widely expected to consolidate and range for a while before choosing the next direction.
Fear VS. Greed… Or Fear VS. FOMO
"If one does not know to which port one is sailing, no wind is favorable."
— Seneca, Roman Philosopher
It is often said that investors suffer from two opposing emotions: fear and greed. Fear dominates in declining markets, causing a flight response usually not tied to a process. Greed comes from an air of invincibility during favorable markets. Despite the emotional catalyst being two very different market environments, both typically lead to less than favorable outcomes.   
While we have no arguments about the damage these emotions can cause for investors, we offer a slightly different take. Instead of fear and greed, we contend that what we are really talking about is fear and… fear. The first kind of fear is of losing money, time, and the ability to provide for the future. The second type of fear is that of missing out, or commonly referred to now as FOMO.
FOMO is enabled by similar feelings and catalysts as greed, but the dominant focus changes from concern about risk of loss to the risk of not gaining enough. Without a doubt, the result is the same. Strategies and/or investments are changed or tweaked at exactly the wrong time in an attempt to ride the prevailing wave.
One of our favorite examples of these destructive behaviors is Sir Isaac Newton's investing experience during the South Sea Bubble.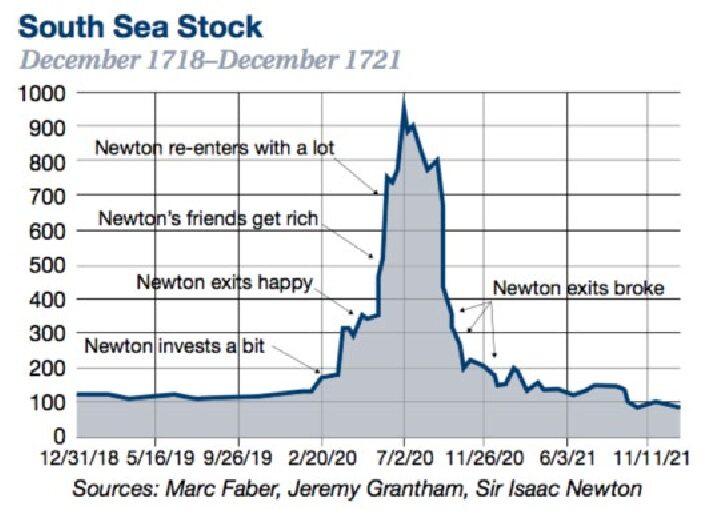 Creating Resiliency
So what does FOMO have to do with the Roman philosopher quoted above or you? Well, for starters, it can make investors lose sight of why they are investing, making it difficult to determine whether a given wind is a tailwind pushing toward the ultimate goal or a headwind pushing them off course.
The bottom line, it is all about choosing the destination and determining the course that provides the best chance of getting there. For you, this means our goal is to take out the emotions that can cause fear-based decision-making that often leads you off course. Our goal is to create wealth in a resilient way that can withstand unexpected headwinds while also quickly pivoting into favorable tailwinds.
We want you to reach your destination and enjoy the ride along the way.  
Thank you for allowing us to serve you.
David Childs, Ira Ross, and Eric Warren

Disclaimer: this note is for general update purposes related to the strategy and approach of Spartan Planning portfolios. Every client's situation including Risk Profile, Time Horizon, Contributions, and Distributions is different from other clients. Your particular exposure to any given asset class will depend on your goals, risk profile, and how tactical or passive your risk profile calls for. If there have been changes to your risk profile and/or goals or if you wish to discuss them in more depth please contact your advisor. This email and the data herein is not a solicitation to invest in any investment product nor is it intended to provide investment advice. It is intended for information purposes only and should be used by investment professionals and investors who are knowledgeable of the risks involved. No representation is made that any investment will or is likely to achieve results comparable to those shown or will make any profit at all or will be able to avoid incurring substantial losses. While every effort has been made to provide data from sources considered to be reliable, no guarantee of accuracy is given. Historical data are presented for informational purposes only. Investment programs described herein contain significant risks. A secondary market may not exist or develop for some investments portrayed. Past performance is not indicative of future performance. Investment decisions should be made based on the investors specific financial needs and objectives, goals, time horizon, tax liability, risk tolerance and other relevant factors. Investments involve risk and unless otherwise stated, are not guaranteed. Be sure to first consult with a qualified financial adviser and/or tax professional before implementing any strategy discussed herein. Investors should consider the underlying funds' investment objectives, risks, charges and expenses carefully before investing. The Advisor's ADV, which contains this and other important information, should be read carefully before investing. ETFs trade like stocks and may trade for less than their net asset value. Spartan Planning Group, LLC ("Spartan" or the "Advisor") is registered as an investment adviser with the United States Securities and Exchange Commission (SEC). Registration does not constitute an endorsement of the firm by the SEC nor does it indicate that the Adviser has attained a particular level of skill or ability. Indexes are unmanaged and do not incur management fees, costs, and expenses. Spartan's risk-management process includes an effort to monitor and manage risk, but should not be confused with and does not imply low risk or the ability to control risk. There are risks associated with any investment approach, and Spartan strategies have their own set of risks to be aware of. First, there are the risks associated with the long-term strategic holdings for each of the strategies. The more aggressive the Spartan strategy selected, the more likely the strategy will contain larger weights in riskier asset classes, such as equities. Second, there are distinct risks associated with Spartan Strategies' shorter-term tactical allocations, which can result in more concentration towards a certain asset class or classes. This introduces the risk that Spartan could be on the wrong side of a tactical overweight, thus resulting in a drag on overall performance or loss of principal. International investments may involve additional risks, which could include differences in financial accounting standards, currency fluctuations, political instability, foreign taxes and regulations, and the potential for illiquid markets. Investing in emerging markets may accentuate these risks. Diversification strategies do not ensure a profit and do not protect against losses in declining markets