Dear Spartan Client,
"There is only one thing worse than being talked about, and that is not being talked about." –Oscar Wilde
Few would argue against the fact that we live at a time in history where noise, both its volume and saturation, is widespread. So, when a topic of seeming importance is not echoing about, it feels a bit strange. As yields and inflation continue to increase in the U.S., one has to wonder: where is all the noise and discussion about its potential implications?
In this month's note we explore the recent downtrends in government bonds, a rarity during the past 40 years, and how the characteristics of these bonds as a diversifier have weakened. Additionally, we look at rising inflation expectations, increasing commodity prices, and how these two trends relate to the shift from growth to value.
But first, below are the asset classes utilized in our portfolios and their model-driven exposure heading into March.

At a Glance: Allocation Adjustments heading into March, 2021
U.S. Equities: Increasing exposure by taking on a portion of the allocations vacated by intermediate-term fixed income and inflation-protected bonds. Rising trends remain across both the intermediate- and long-term timeframes.

International Equities: No change to exposure, which is at its baseline allocation, with uptrends remaining across both timeframes.

Real Estate: No change. Exposure is at its baseline allocation with uptrends in both timeframes.

Intermediate-Term Fixed Income: Decreasing exposure due to downtrends in both timeframes. International bonds will also decrease due to intermediate- and long-term downtrends.

Inflation-Protected Bonds: Decreasing exposure due to an intermediate-term downtrend.

Short-Term Fixed Income: Increasing exposure by taking on the allocations vacated by intermediate-term fixed income and inflation-protected bonds.

Alternatives: No change. The intermediate-term downtrend and long-term uptrend remain intact.
Asset Level Overview
Equities and Real Estate
After giving up gains in the final few days of January to finish the first month of the year down, equities and real estate again started off hot in February, pushing year-to-date returns into positive territory. However, indexes finished mostly lower during the last 10 trading days of February, reminding us of previous month-end swoons. In fact, this would mark the third time in four years (2018, 2020, 2021) that late February weakness has put a damper on an otherwise strong start to the year.
Despite these brief pockets of weakness, U.S., foreign developed, and emerging markets equities are all closing at or near all-time highs. Given these persistently strong uptrends equity allocations will increase heading into March, as a portion of the exposure from downward trending fixed income assets are reallocated to equities.
Fixed Income and Alternatives
Despite the negative close to January for equities, fixed income failed to benefit from the usual flight to safety, and actually continued to  decline in February. International bonds have experienced a sharp decrease during the last 30 days, joining their U.S. counterpart with both intermediate- and long-term downtrends. Within the alternatives allocation, gold continues to consolidate, following declines in both January and February. The result of all this weakness is an increasing flow of our portfolio toward the shortest end of the yield curve and lowest durations possible. This shift is designed to combat the downside volatility elsewhere in the fixed income allocations.
Three potential macro catalysts for the recent trend changes:
Coronavirus Vaccine Progress: A Bloomberg report early in the month indicated the vaccine supply would double by April, bolstered by the approval of additional vaccine candidates. Additionally, President Biden said in a town hall event that he expected all Americans to have access to a coronavirus vaccine by July, helping life fully return to normal by Christmas.

Rising U.S. Interest Rates: 10-year Treasury yields increased to their highest level since the coronacrash. Conversely, the Fed continues its asset purchasing program for the foreseeable future.

Mixed Economic Data: The latest data release showed that U.S. producer prices increased by 1.3% in January, the biggest increase since December 2009. Retail sales also jumped 5.3%, exceeding expectations. Recent weekly jobless claims reported a jump of 861,000, the most since mid-January. Housing data also surprised, with new construction starts declining.
The Bond Bear Market
While recent media and societal focus has been on bubbles, Bitcoin, and GameStop, an important but largely unnoticed trend has established itself. Looking across all segments of the Treasury yield curve, bond prices have decreased (interest rates increased) to such an extent that all have intermediate-term downtrends. Moreover, all but the shortest in duration are also experiencing long-term downtrends. This seems like a big deal given the size and reach of fixed income markets and the impact that rates have on, well, nearly everything.
One generally accepted definition for an equity bear market is a 20% decline from recent highs. There is not a generally accepted definition of a bear market for bonds, but, using the same framework, we find bonds near their "risk-adjusted equivalent" to a 20% decline to warrant a bear market call. A movement of this magnitude is rare, happening only three times over the last 20 years.
Where's the Diversification?
Perhaps most troubling is that these downtrends have been associated with a noticeable lack of diversification benefit on the worst days for equities in 2021. Heading into March, the iShares 20+ Year Treasury Bond ETF (TLT) lost an average of 36 bps (0.36%) during the worst 10 days of the year for the S&P 500 Index.  Bonds performance suffered at the same time equities were declining, hence our caution with the 60/40 problem paper we worked on with Blueprint Investment Partners.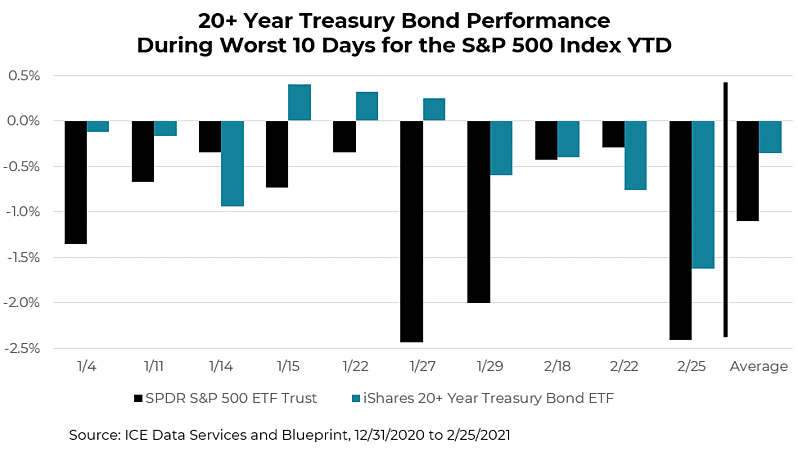 The rise in interest rates is due in part to the increase in inflation. Inflation expectations in the U.S. recently hit 8-year highs, as energy and other physical commodity prices soar. As shown in the graph below, commodity indexes are at their highest level in years, with copper, lumber, and oil experiencing big positive moves. Between historically low rates and rapidly rising inflation expectations, one might conclude that bond prices have nowhere to go but down.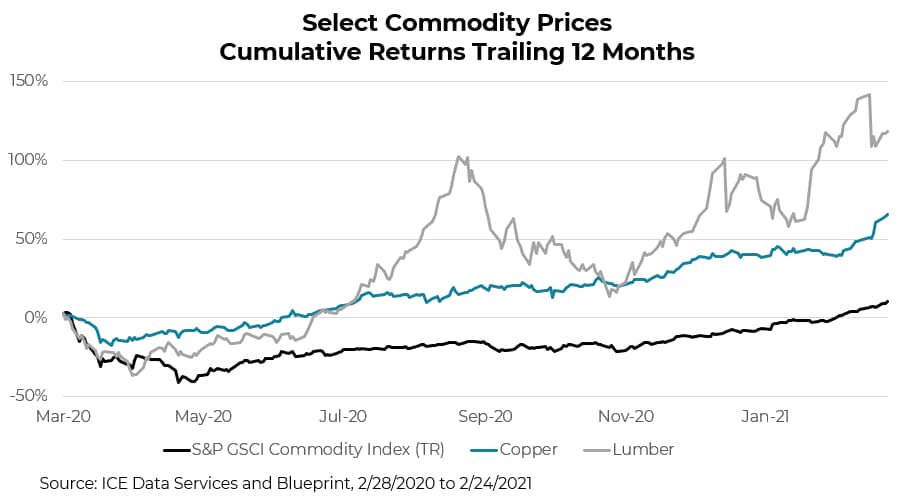 Inflation – A Ubiquitous Threat
In addition to causing trouble for bonds, inflation has an insidious effect on equities as well. As inflation reduces purchasing power, limiting consumers' ability to maintain spending rates, revenues and profits get squeezed over time. This potentially negative catalyst for both equities and bonds further spotlights the need for a disciplined, reactive strategy rather than reliance on wide spread "conventional wisdom".
What Happens Next
As always seems to be the case, we are nearing a crucial juncture for what happens next. With so much conjecture on where the market is heading, there are so many opinions on what the next right step is.  Unfortunately, things are just as uncertain as they always are, because no one truly knows what will happen.
We have consistently bucked the theory of just following "the way things have always been done", simply because tomorrow may be drastically different than today or any other day we have seen.  Thus, we continually try to hone our understanding of the past and present, to better adapt our strategies for whatever lies ahead.
Best,
David Childs, Ira Ross, Blaise Stevens, and Eric Warren
Spartan Planning
Disclaimer: this note is for general update purposes related to the strategy and approach of Spartan Planning portfolios. Every client's situation including Risk Profile, Time Horizon, Contributions, and Distributions is different from other clients. Your particular exposure to any given asset class will depend on your goals, risk profile, and how tactical or passive your risk profile calls for. If there have been changes to your risk profile and/or goals or if you wish to discuss them in more depth please contact your advisor. This email and the data herein is not a solicitation to invest in any investment product nor is it intended to provide investment advice. It is intended for information purposes only and should be used by investment professionals and investors who are knowledgeable of the risks involved. No representation is made that any investment will or is likely to achieve results comparable to those shown or will make any profit at all or will be able to avoid incurring substantial losses. While every effort has been made to provide data from sources considered to be reliable, no guarantee of accuracy is given. Historical data are presented for informational purposes only. Investment programs described herein contain significant risks. A secondary market may not exist or develop for some investments portrayed. Past performance is not indicative of future performance. Investment decisions should be made based on the investors specific financial needs and objectives, goals, time horizon, tax liability, risk tolerance and other relevant factors. Investments involve risk and unless otherwise stated, are not guaranteed. Be sure to first consult with a qualified financial adviser and/or tax professional before implementing any strategy discussed herein. Investors should consider the underlying funds' investment objectives, risks, charges and expenses carefully before investing. The Advisor's ADV, which contains this and other important information, should be read carefully before investing. ETFs trade like stocks and may trade for less than their net asset value. Spartan Planning Group, LLC ("Spartan" or the "Advisor") is registered as an investment adviser with the United States Securities and Exchange Commission (SEC). Registration does not constitute an endorsement of the firm by the SEC nor does it indicate that the Adviser has attained a particular level of skill or ability. Indexes are unmanaged and do not incur management fees, costs, and expenses. Spartan's risk-management process includes an effort to monitor and manage risk, but should not be confused with and does not imply low risk or the ability to control risk. There are risks associated with any investment approach, and Spartan strategies have their own set of risks to be aware of. First, there are the risks associated with the long-term strategic holdings for each of the strategies. The more aggressive the Spartan strategy selected, the more likely the strategy will contain larger weights in riskier asset classes, such as equities. Second, there are distinct risks associated with Spartan Strategies' shorter-term tactical allocations, which can result in more concentration towards a certain asset class or classes. This introduces the risk that Spartan could be on the wrong side of a tactical overweight, thus resulting in a drag on overall performance or loss of principal. International investments may involve additional risks, which could include differences in financial accounting standards, currency fluctuations, political instability, foreign taxes and regulations, and the potential for illiquid markets. Investing in emerging markets may accentuate these risks. Diversification strategies do not ensure a profit and do not protect against losses in declining markets