Dear Spartan Client,
"No mind, however dull, can escape the brightness that comes from steady application."
—Sir William Osler
Risk is technically a four-letter word.
Depending on your vantage point, risk can be viewed as either a positive or negative, but in either case, it is typically associated with strong feelings. 
Risk is defined in various ways depending on the context. From the perspective of our investment process, we define risk as the damaging loss to compounding caused by large drawdowns. 
Our process is aimed at preserving compounding regardless of the market environment. In 2022, this has meant adjusting equity exposure (mostly downward) to guard against further declines in global stocks as downtrends have begun and held. The data tell us that the risk of large drawdowns, while always present, is highest when downtrends materialize. 
Charlie Munger, the famed Berkshire Hathaway Vice Chairman, has a famous way of repeating "Invert, always invert." What he means by this is "invert the problem." Inverting a problem means flipping it upside down. It means starting from the opposite end and trying to get back to the root of things and make a decision that way. When you invert a problem, you are defining the outcome you don't want and then planning out the steps to avoid getting that result.
Abiding by Charlie Munger's maxim of "invert, always invert," one can reframe the notion of risk by asking, "What can I do to generate the largest drawdown possible?" The answer is simple: employ a strategy that ignores downside risk, relies on prediction, reacts to emotion, is not adaptable, and often makes a prediction confidently that the future will play out exactly like the past (or nothing like the past). Now to reduce the likelihood of that outcome of "maximum drawdowns" – one must do the opposite to get the opposite result of "minimum drawdowns".
In this month's Note, we discuss the various timeframes we utilize to measure and adapt to market risks. We believe, regardless of the timeframes or research used by self-managed investors, without awareness of their own "behavioral heuristics" or tendencies they will inevitably fall prey to hindsight bias leading them to abandon their investment process or, perhaps worse, lead them to conclude that they have predictive powers regarding the future behavior of markets.
In opposition to this behavior, we believe reliability, adaptability, and consistency should be the focus for investors in all environments, and importantly in times like these. 
Below are the asset classes utilized in our portfolios and their model-driven exposure heading into May.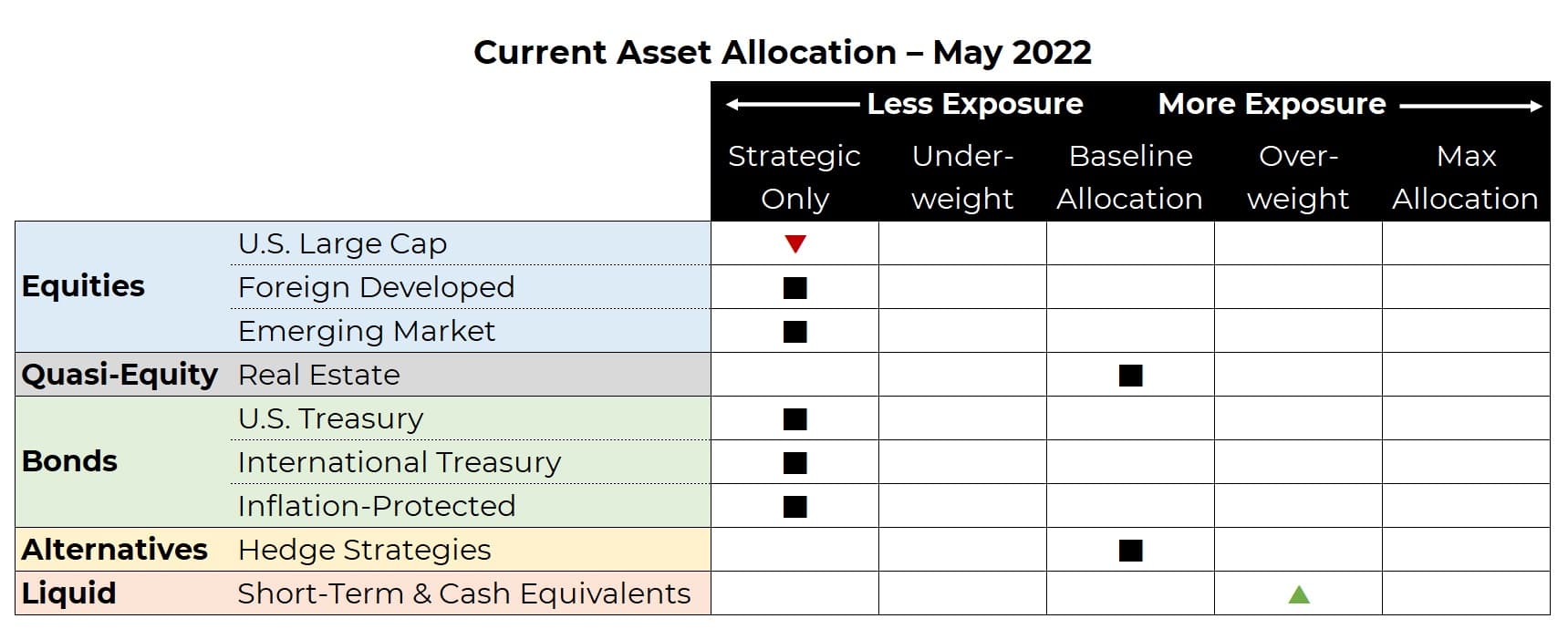 Square indicates no change month-over-month. Arrows indicate increase/decrease month-over-month. Adjustments can vary across Spartan Strategies depending on each Strategy's objectives. What's illustrated above most closely reflects allocation adjustments for the Spartan Growth Strategy.
Disclaimer: this note is for general update purposes related to the general strategy and approach of Spartan Planning portfolios. Every client's situation including Risk Profile, Time Horizon, Contributions, and Distributions is different from other clients. Your exposure to any given asset class will depend on your goals, risk profile, and how tactical or passive your risk profile calls for. If there have been changes to your risk profile and/or goals or if you wish to discuss them in more depth, please contact your advisor.
At a Glance: Allocation Adjustments Heading Into May, 2022
U.S. Equities: Exposure will decrease, as both the intermediate- and long-term timeframes enter downtrends.
International Equities: Exposure will not change, as both foreign developed and emerging markets remain in downtrends across both timeframes.
Real Estate: Exposure will not change, as both timeframes remain in uptrends.
U.S. and International Treasuries: Exposure will not change and is at its minimum allocation due to downtrends across both timeframes.
Inflation-Protected Bonds: Exposure will not change and is at its minimum due to downtrends across both timeframes.
Short-Term Fixed Income:  Exposure will increase, as it takes on exposure from all other weaker assets, particularly U.S. equities.
Alternatives: Exposure will not change, as gold remains in uptrends across both timeframes.
Three potential macro catalysts for the recent trend changes:
GDP Woes:

The U.S. economy contracted in the opening months of the year, as strong consumer demand and supply constraints at home brought in a flood of imports. Gross domestic product fell at a 1.4% annual pace in the first quarter, as private inventories shrank and the trade deficit ballooned. The majority share of first-quarter consumption was attributed to inventories or imports rather than American output.

Future Inflation:

The World Bank expects commodity prices to remain elevated for years. The war in Ukraine is altering how commodities are traded, produced, and consumed. In its latest Commodity Markets Outlook report, the multilateral bank indicated energy prices will soar 50.5% this year from last, after nearly doubling in 2021 in some parts of the world. Food prices are projected to rise 22.9% this year after a 31% increase last year.

Food Costs:

Corn and soybean prices have risen to near-record highs. If corn and soybeans notch new highs, they will be the latest raw materials to do so in the broadest and sharpest commodities rally of the modern trading era. Vegetable oils, oats, and wheat have already set record highs in 2022.
Speed Kills
"Life moves pretty fast. If you don't stop and look around once in a while, you could miss it."
—Ferris Bueller
The common thread of this year's notes has been having a proper perspective on markets.
After living through the first quarter of this year, a reiterated theme has been the unpredictability of future performance in financial markets and the emotional difficulty for investors associated with following the data to remain adaptive in a choppy market. In our experience, and looking at the data, we find investor behavior as one of the biggest factors determining whether an investor will meet future goals.  Even great strategies can be overlooked or discarded if the proper perspective and behavior are not maintained, which brings us to how May is shaping up.
The current environment is fertile ground for investor biases to run amok. One of the more common biases undisciplined investors encounter is "hindsight bias". Hindsight bias is looking back at an event you are inclined to believe the outcome could have or should have been predicted (but wasn't). Hindsight is 20/20.  Put another way,  if we know an outcome, it's much easier to construct a plausible explanation after the fact, even if that outcome could not have been plausibly predicted.
One of the difficulties of trend following is the selection of which are the "right/best" timeframes. By taking a longer-term focus, it is often tempting – and perhaps convenient – to look back and conclude that a longer-term trend following strategy is "too slow" to react to changing conditions.
We readily agree that trend-based systems such as ours can seem slow in the face of a news cycle that is constantly changing and bombarding us with new information generating substantial emotional responses. War in Ukraine, COVID lockdowns in China, Elon Musk buying Twitter. The constant drumbeat of activity demands action, doesn't it?
Not. So. Fast.
The methodical speed at which we make asset allocation decisions is deliberate, not by accident. During an emotionally charged environment where human biology screams for action now, it is natural to forget or even ignore times when acting too quickly would have cost money (errors of commission vs. errors of omission). This is why the data is so important. If one can boil the question of when to act down to a single data point over many samples, then it is less difficult (notice we didn't say easy) to remain committed and execute in a cold-blooded, "Spartan" manner.
What data objectively shows us, many times may run counter to what emotionally feels true in the moment. What can seem slow in the moment has a way of looking fast in hindsight. As an example, the S&P 500 is a little more than 10% below its all-time peak as we write this note (end of April), which puts it in proximity to its 200-day average. Over the last 30 years, the 200-day average of the S&P 500 has compounded at 8%+ annually. If the market truly is headed for disaster in the way of a bear market (only evident after some period of time), then taking portfolios defensive at a 10% decline in the S&P will later seem prescient if markets ultimately end up in a 40%, 50%, 60%+ drawdown for instance. A decline of this magnitude has happened multiple times in the past in US markets and countless times globally.
Tax considerations are another practical factor. "Faster" systems are often inherently less compatible with U.S. tax law because they generate more short-term capital gains.  Accounting for taxes in investment performance can be tedious and the "tax tail should not wag the dog" but the cost is not something to ignore and can be meaningful. Wash sale rules complicate the tax matter even further. If a faster system could even outperform the slower one on a risk-adjusted basis, the after-tax returns often negate the benefits.  
Again, perspective is everything. Our aim has been and always will be to help clients meet their goals by being reliable, decisive, and consistent. During times like 2021, this will seem easy. Early in 2022 (and back in 2020), it's not going to seem easy. However, these times are when we show our mettle, so we are grateful for the opportunities that lay ahead.
David Childs, Ira Ross, and Eric Warren
Spartan Planning
Disclaimer: this note is for general update purposes related to the strategy and approach of Spartan Planning portfolios. Every client's situation including Risk Profile, Time Horizon, Contributions, and Distributions is different from other clients. Your particular exposure to any given asset class will depend on your goals, risk profile, and how tactical or passive your risk profile calls for. If there have been changes to your risk profile and/or goals or if you wish to discuss them in more depth please contact your advisor. This email and the data herein is not a solicitation to invest in any investment product nor is it intended to provide investment advice. It is intended for information purposes only and should be used by investment professionals and investors who are knowledgeable of the risks involved. No representation is made that any investment will or is likely to achieve results comparable to those shown or will make any profit at all or will be able to avoid incurring substantial losses. While every effort has been made to provide data from sources considered to be reliable, no guarantee of accuracy is given. Historical data are presented for informational purposes only. Investment programs described herein contain significant risks. A secondary market may not exist or develop for some investments portrayed. Past performance is not indicative of future performance. Investment decisions should be made based on the investors specific financial needs and objectives, goals, time horizon, tax liability, risk tolerance and other relevant factors. Investments involve risk and unless otherwise stated, are not guaranteed. Be sure to first consult with a qualified financial adviser and/or tax professional before implementing any strategy discussed herein. Investors should consider the underlying funds' investment objectives, risks, charges and expenses carefully before investing. The Advisor's ADV, which contains this and other important information, should be read carefully before investing. ETFs trade like stocks and may trade for less than their net asset value. Spartan Planning Group, LLC ("Spartan" or the "Advisor") is registered as an investment adviser with the United States Securities and Exchange Commission (SEC). Registration does not constitute an endorsement of the firm by the SEC nor does it indicate that the Adviser has attained a particular level of skill or ability. Indexes are unmanaged and do not incur management fees, costs, and expenses. Spartan's risk-management process includes an effort to monitor and manage risk, but should not be confused with and does not imply low risk or the ability to control risk. There are risks associated with any investment approach, and Spartan strategies have their own set of risks to be aware of. First, there are the risks associated with the long-term strategic holdings for each of the strategies. The more aggressive the Spartan strategy selected, the more likely the strategy will contain larger weights in riskier asset classes, such as equities. Second, there are distinct risks associated with Spartan Strategies' shorter-term tactical allocations, which can result in more concentration towards a certain asset class or classes. This introduces the risk that Spartan could be on the wrong side of a tactical overweight, thus resulting in a drag on overall performance or loss of principal. International investments may involve additional risks, which could include differences in financial accounting standards, currency fluctuations, political instability, foreign taxes and regulations, and the potential for illiquid markets. Investing in emerging markets may accentuate these risks. Diversification strategies do not ensure a profit and do not protect against losses in declining markets