Dear Spartan Client,
"…learn enough from history to bear reality patiently and to respect one another's delusions." 
—Will Durant
There's been a lot of talk this year about uncertainty. Specifically, about how markets hate it. We think it's helpful to remember that the market is comprised of millions of willing participants (i.e., people), and it is actually those humans who hate uncertainty.
In our view, it is wasted effort to look for certainty in the markets, because once cannot get certainty about anything in the future. In the end, most people seem to be really only concerned with their outcome anyways – asking themselves "am I going to be OK when markets do what they do?".  The answer is: it depends what are you going to do when you are uncertain about the market (which, if you are honest, is all the time). The only way we know how to give confidence in the face of the reality of the market, is to use a risk management process that is agnostic to the emotions created by humans.  We need to soley rely on the process rules and the appropriate predetermined response. When the market does X we will do Y…  wait, have we just created certainty? Yes! 
Let's briefly discuss this Venn Diagram. Lots of things are important. Few are in anyone's control. We encourage you to ask the two questions listed below each time you begin to worry about anything in markets, investing, or really anything in your life. Q1: Is it important? Q2: Can we/I control it?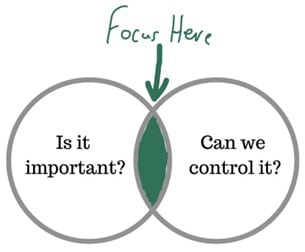 Lots of things are important. Many of those are out of anyone's control. No one can control the weather or geopolitical events or economic and financial market cycles, or pandemics.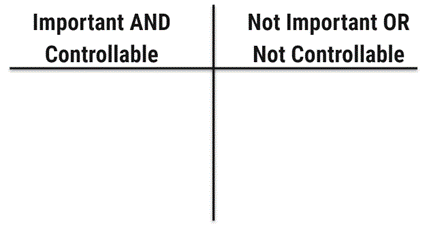 When it comes to investing, we can control HOW MUCH we own of an asset AT ANY GIVEN TIME and WHEN we buy, sell, add, or reduce positions. But exactly how do we make those decisions if we're not predicting future outcomes?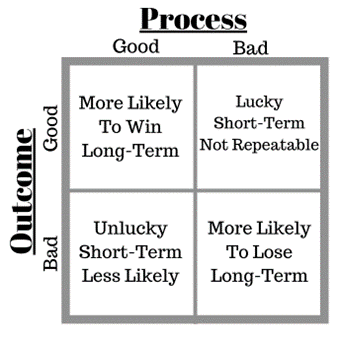 Systematic investors use a repeatable, data driven, robust process that protects them from emotional biases and from their egos. And they execute that process diligently, consistently, unfailingly, every time. Even when it feels painful or wrong.
Systematic, objective, investors don't have to pretend that they can see the future. Their process is designed to react in a predetermined way to certain events as they occur. It reacts to the "what" without any need to know the "why", so it's universally applicable to any investment vehicle that trades frequently enough to generate a price plot and is liquid enough to have reliable data. Every time systematic investors buy an investment, they know in advance the circumstances in which they would sell it. And every time they sell an investment, systematic investors know in advance the circumstances in which they would reinvest the sale proceeds.
By focusing on what is important, and what can be controlled, we can gain certainty of process and move toward a repeatable way of moving toward your best outcome, being OK when the market is full of uncertainty (which is all the time). In this month's note, we provide context on the market through the lens of our systematic investment process. 
Below are the asset classes utilized in our portfolios and their model-driven exposure heading into November.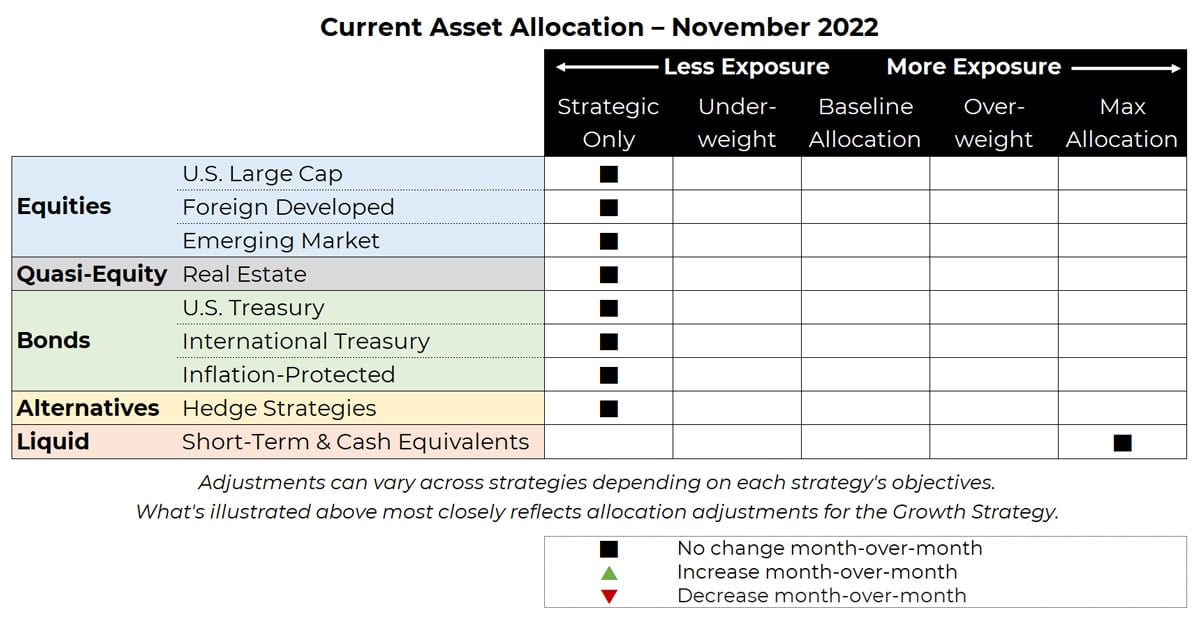 Disclaimer: this note is for general update purposes related to the general strategy and approach of Spartan Planning portfolios. Every client's situation including Risk Profile, Time Horizon, Contributions, and Distributions is different from other clients. Your exposure to any given asset class will depend on your goals, risk profile, and how tactical or passive your risk profile calls for. If there have been changes to your risk profile and/or goals or if you wish to discuss them in more depth, please contact your advisor.
Asset-Level Overview
Equities & Real Estate
After making a new annual low in early October, U.S. equities posted positive returns for the month, led by the energy and industrial sectors. However, with the exception of the energy sector, all equity sectors in the U.S. remain entrenched in downtrends. As a result, all our portfolios will continue to have minimal exposure at the asset class level. Within strategies and allocations that incorporate individual stocks, exposure will increase to individual holdings which have positive trends, particularly within U.S. small-cap and mid-cap segments.
Looking internationally, developed economies experienced rising equity prices in October. Conversely, emerging markets are on pace to experience yet another down month, led by weakness in Chinese stocks, which are closing the month near their lowest point in 15-years. Overall, our portfolios continue to be minimally exposed to international stocks and will continue to be minimally exposed until conditions improve. 
Real estate securities have managed to eke out a small gain on the month, but conditions continue to be difficult. As inflation continues to run historically high, correspondingly higher interest rates have had a considerable negative affect on U.S. and global real estate. Our portfolios remain at their minimum exposure to this asset class.
Fixed Income & Alternatives
What can you say about fixed income, except that things are UGLY? While some pockets, such as inflation-protected and global bonds, stopped dropping at least for now, U.S. bonds are on pace for yet another down month. This asset class seems intent on challenging stocks for the worst performance, which surprises many investors given its historically low-volatility characteristics. As a result, our portfolios remain at minimum exposure across all areas of fixed income except ultra-short duration.
Gold specifically, and commodities more broadly, continued to drift relatively sideways to lower, for the most part, with the obvious exception being energy. While relatively less weak than other assets, gold has not done enough to warrant uptrends. As a result, all portfolios remain at their minimum allocation.
Three Potential Catalysts for Trend Changes: Giving Clients the Context
Rinse, Repeat:

The Federal Reserve increased the baseline interest rate by 0.75% for the fourth time at their Nov. 1-2 meeting. However, officials plan to begin discussing whether to slow the pace of rate increases in the future, according to a report by The Wall Street Journal (the actual language didn't bear this speculation out). Some members of the Federal Reserve are wary that they may be pushing the economy too far, which might tip the United States into a recession.

Elevator Down:

The general housing market continues to trend down. Rising mortgage rates and concerns about recession have caused buyers to scale back, sending home sales downwards and bringing down prices from their atmospheric levels. The S&P CoreLogic Case-Shiller National Home Price Index fell 1.1% in August from July, the biggest decline since 2011.

Bigger Deductions!

One positive side-effect of rampant inflation is that the IRS is raising tax brackets and standard deductions by 7%. The standard deduction will climb to $27,700 for married couples and $13,850 for individuals, allowing taxpayers to shield more of their earnings from income taxes. The threshold for the estate-tax also jumped to $12.92 million for 2023.
Bear Market History Lessons
"We must all suffer one of two pains: the pain of discipline or the pain of regret." 
—Jim Rohn
U.S. stocks produced a noticeable bear market rally in October. On the surface, this was a reprieve from the steady drumbeat of declining prices experienced so far in 2022.  However, it takes only a cursory look to realize that little has changed over the last 30 days. From a fundamental perspective you have plenty of ingredients for why capital markets remain weak: continued rising inflation and interest rates, Russia's ongoing war with Ukraine, and remaing high oil prices. Oh, and throw in the uncertainty of a coming election in the U.S.
All of those "whys" are important to the human participants in markets, but not necessarily important to your portfolio's outcome.  While millions of investors react to those "whys" they put all of their opinions, fears, and predictions into the prices of investment markets creating a trend (mostly negative now) that can be observed and turned into action.  Our systematic investing approach takes an objective look at these established price trends and reacts in a predetermined manner.  In fact, negative pricetrends were created before the fundamental data reflected dire conditions and we have been generally underweight in equities since the end of January.  Since the end of April we have been at our minimum allocations nearly across the board.
Despite increases in October, major indices continue to repeat the pattern of new lows followed by lower highs. Until this cycle is broken by the millions of market participants, our research and systematic investing process tells us that moving equity exposure back to even our baseline allocations is simply too much risk for the potential reward.
Being exposed to falling asset prices with no plan for how to respond can be dangerous, especially in situations like this. Uncertainty reigns and drives many investors to make the wrong decision at the wrong time.  In our risk management for your financial life, we face that uncertainy by following repeatable rules for making allocation decisions. Rules that are able to adapt your portfolio to what we are experiencing now and whatever future environments will throw your way. Not only does this keep us positioned well, in our opinion, but also gives us great peace of mind. We hope to pass this same peace of mind on to you and as always, thank you for the opportunity to help guide you and your family toward a stress-free financial life.
As always, thank you for the opportunity to help guide you and your family toward a stress-free financial life.
David Childs, Ira Ross, and Eric Warren

Disclaimer: this note is for general update purposes related to the strategy and approach of Spartan Planning portfolios. Every client's situation including Risk Profile, Time Horizon, Contributions, and Distributions is different from other clients. Your particular exposure to any given asset class will depend on your goals, risk profile, and how tactical or passive your risk profile calls for. If there have been changes to your risk profile and/or goals or if you wish to discuss them in more depth please contact your advisor. This email and the data herein is not a solicitation to invest in any investment product nor is it intended to provide investment advice. It is intended for information purposes only and should be used by investment professionals and investors who are knowledgeable of the risks involved. No representation is made that any investment will or is likely to achieve results comparable to those shown or will make any profit at all or will be able to avoid incurring substantial losses. While every effort has been made to provide data from sources considered to be reliable, no guarantee of accuracy is given. Historical data are presented for informational purposes only. Investment programs described herein contain significant risks. A secondary market may not exist or develop for some investments portrayed. Past performance is not indicative of future performance. Investment decisions should be made based on the investors specific financial needs and objectives, goals, time horizon, tax liability, risk tolerance and other relevant factors. Investments involve risk and unless otherwise stated, are not guaranteed. Be sure to first consult with a qualified financial adviser and/or tax professional before implementing any strategy discussed herein. Investors should consider the underlying funds' investment objectives, risks, charges and expenses carefully before investing. The Advisor's ADV, which contains this and other important information, should be read carefully before investing. ETFs trade like stocks and may trade for less than their net asset value. Spartan Planning Group, LLC ("Spartan" or the "Advisor") is registered as an investment adviser with the United States Securities and Exchange Commission (SEC). Registration does not constitute an endorsement of the firm by the SEC nor does it indicate that the Adviser has attained a particular level of skill or ability. Indexes are unmanaged and do not incur management fees, costs, and expenses. Spartan's risk-management process includes an effort to monitor and manage risk, but should not be confused with and does not imply low risk or the ability to control risk. There are risks associated with any investment approach, and Spartan strategies have their own set of risks to be aware of. First, there are the risks associated with the long-term strategic holdings for each of the strategies. The more aggressive the Spartan strategy selected, the more likely the strategy will contain larger weights in riskier asset classes, such as equities. Second, there are distinct risks associated with Spartan Strategies' shorter-term tactical allocations, which can result in more concentration towards a certain asset class or classes. This introduces the risk that Spartan could be on the wrong side of a tactical overweight, thus resulting in a drag on overall performance or loss of principal. International investments may involve additional risks, which could include differences in financial accounting standards, currency fluctuations, political instability, foreign taxes and regulations, and the potential for illiquid markets. Investing in emerging markets may accentuate these risks. Diversification strategies do not ensure a profit and do not protect against losses in declining markets