Dear Spartan Client,
"Our patience will achieve more than our force." 
—Edmund Burke
In recent conversations with those who know we are in the investment world but don't fully understand what we do, we have received condolences. "Man, I bet this has been a hard year, huh?" is the common comment. How to answer? Given that we have been and remain in a more defensive portfolio position against large further equity declines, it is both an easy and difficult response.
If the conversation continues, the question of "but what if you miss the 'inevitable' rally?" usually comes up. Trying to explain the benefits of long-term compounding by avoiding large and long-drawn-out losses is difficult in most environments, but it is especially challenging while standing around at a kid's birthday party or at a charity fundraiser event. We usually just shorten the story down to simple, generally true principles and say "there are ways to limit your downside and create better long-term outcomes for your family than simply 'buy & hope'". But we also explain there are frequently "bear market rallies" and "dead cat bounces" in what are overall very challenging, and downtrending, market environments.
How common are these rallies? Below is a table outlining the S&P 500 Index's bear market rallies during the Dot Com Bubble, Financial Crisis, and 2022.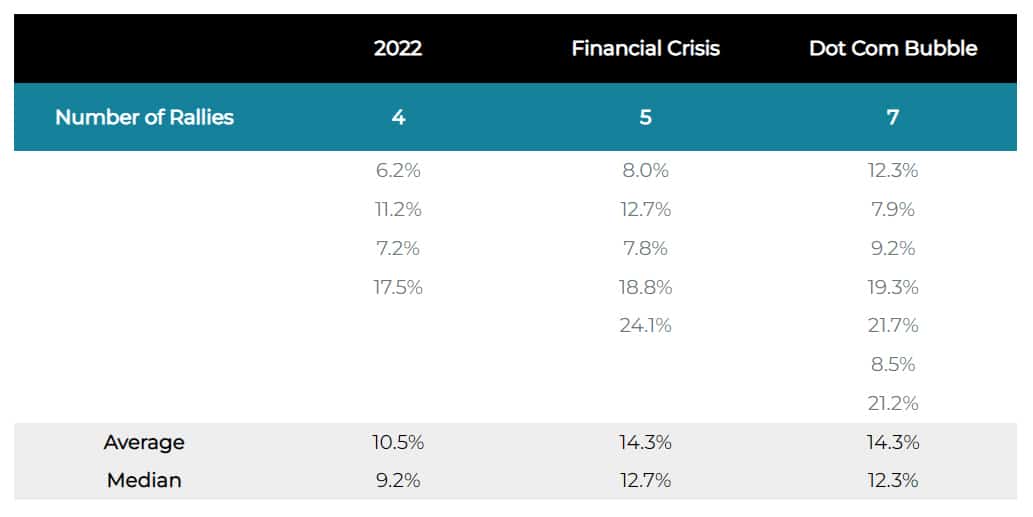 Source: Stockcharts.com and Blueprint Investment Partners
In short, bear market or countertrend rallies are common, and when they happen, they can be considerable in magnitude, particularly as the bear market persists. As advisors who rely on a systematic investing process, this data is both anecdotal and medicinal. We are happy to sit in a reduced risk position even in face of these potential rallies until a rising and more stable trend forms. This is true especially if it means protecting capital when the rally ends and new lows occur. The only way to fully participate in all rallies is to be willing to participate in all declines and drawdowns in those same markets. Data-driven research, alongside common sense, shows that it is incredibly damaging to sit through the worst declines in investment markets. This isn't to say "stocks [insert any other investment also] won't come back". It is to say they don't have to in any reasonable time period relevant to your financial plan. Because of this, we must be vigilant and steadfastly execute our systematic and disciplined system to give you the best chance to meet and exceed your financial goals.
In this month's note, we continue this discussion and lay out the benefits and perils of comparing 2022 to past bear markets, notably 2008. Regardless of the similarities, investors must keep their egos in check to remain objective and stick to their processes. At Spartan, this is in line with one of our core values: Remove emotion from the investing process and help clients achieve their financial goals by reducing unnecessary risk.
Below are the asset classes utilized in our portfolios and their model-driven exposure heading into October.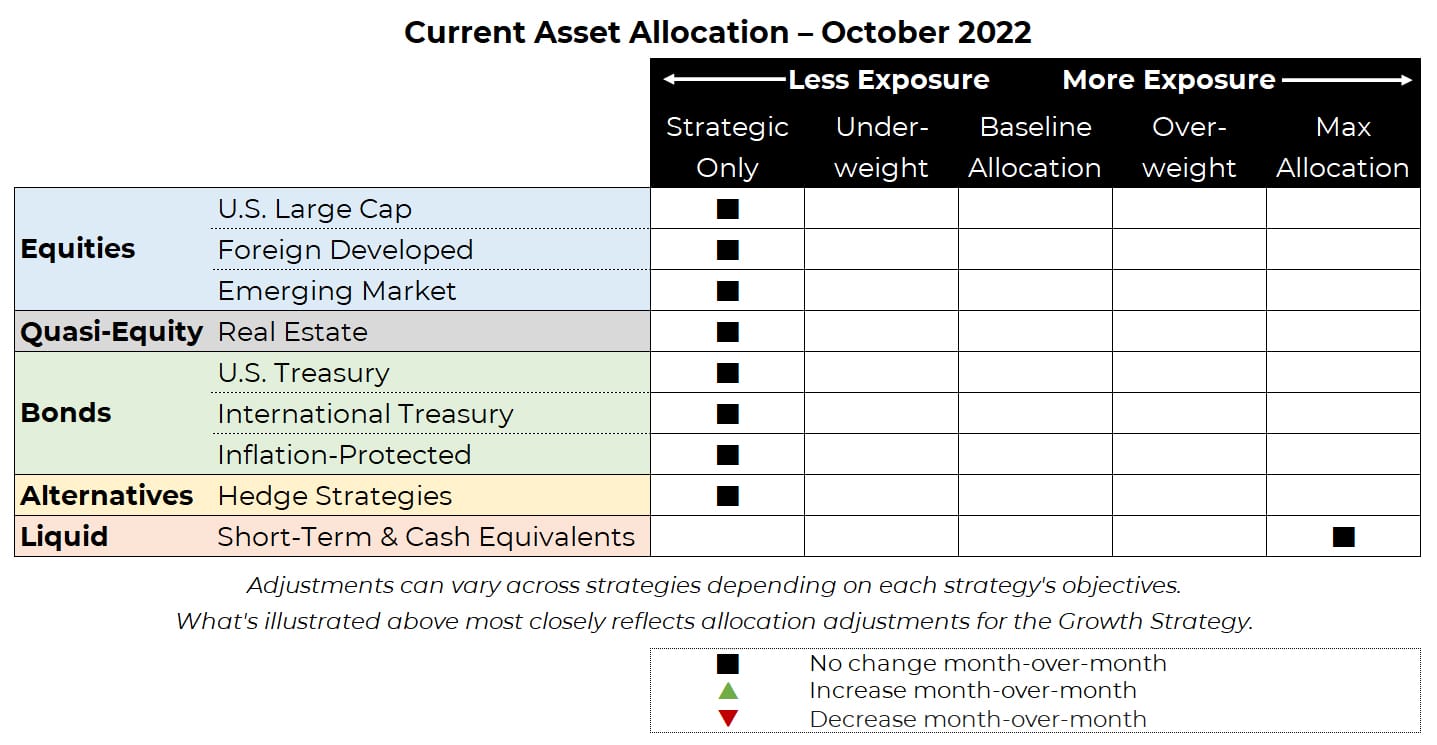 Disclaimer: this note is for general update purposes related to the general strategy and approach of Spartan Planning portfolios. Every client's situation including Risk Profile, Time Horizon, Contributions, and Distributions is different from other clients. Your exposure to any given asset class will depend on your goals, risk profile, and how tactical or passive your risk profile calls for. If there have been changes to your risk profile and/or goals or if you wish to discuss them in more depth, please contact your advisor.
At a Glance: Allocation Adjustments Heading Into October, 2022
U.S. Equities: Exposure will not change from its minimum allocation, as both the intermediate- and long-term timeframes remain in downtrends.
International Equities: Exposure will not change from its minimum allocation, as both foreign developed and emerging markets remain in downtrends across both timeframes.
Real Estate: Exposure will not change from its minimum allocation, as both the intermediate- and long-term timeframes remain in downtrends.
U.S. and International Treasuries: Exposure will not change and is at its minimum allocation due to downtrends across both timeframes.
Inflation-Protected Bonds: Exposure will not change and is at its minimum due to downtrends across both timeframes.
Short-Term Fixed Income:  Exposure will not change, as it is already at its max allocation due to previously taking on exposure from equities, real estate, alternatives, and longer-duration fixed income.
Alternatives: Exposure will not change and is at its minimum allocation due to downtrends across both timeframes.
Three potential macro catalysts for the recent market moves:
It's Been a Long While:

Japan intervened in the foreign-exchange market for the first time in 24 years when it bought yen this month. The rare move is an example of global concern resulting from a strong U.S. dollar, which is tied to the Fed increasing interest rates. "The core cause of the dollar's strength, particularly against the yen, is the interest-rate differential between the U.S. and Japan," reported The Wall Street Journal.

It's Never Been Before:

The U.K.'s pound hit its lowest-ever level against the U.S. dollar earlier this week. Investors are worried about the government's plans to cut taxes, and the Bank of England has signaled an interest rate increase is coming. The Wall Street Journal noted that Kallum Pickering, a Senior Economist at Berenberg bank expressed: "Much of the investor concern isn't necessarily about whether the U.K. government will honor its debts, but rather a view that the tax cuts will spur higher interest rates down the road and thus check much of the economic growth that the new government hopes to achieve."

And Also, It's Lower for Lumber:

Lumber prices have fallen to their lowest level in more than two years. Pricing for two-by-fours is now in line with the pre-pandemic cost. The news signals an abrupt slowdown in construction, and new permits for residential construction has been declining since March. The National Association of Home Builders reports that builder confidence declined in September for the ninth straight month. It's pessimism not registered since the pandemic lockdowns of the 2020s and the 2008 housing crash.
Bear Market History Lessons
"History doesn't repeat itself, but it often rhymes."
—Mark Twain
The graph below shows the hypothetical decline of $1,000 invested in the S&P 500 SPDR ETF (SPY) at the beginning of a calendar year through nearly the end of September (9/23). One is 2022. The other is 2008. There's a part of us that wants to keep it a mystery and let readers discover which one is which for themselves. However, to stay on your good side (and to keep our friends in compliance happy), we'll reveal that the teal line is 2008 and the black is 2022.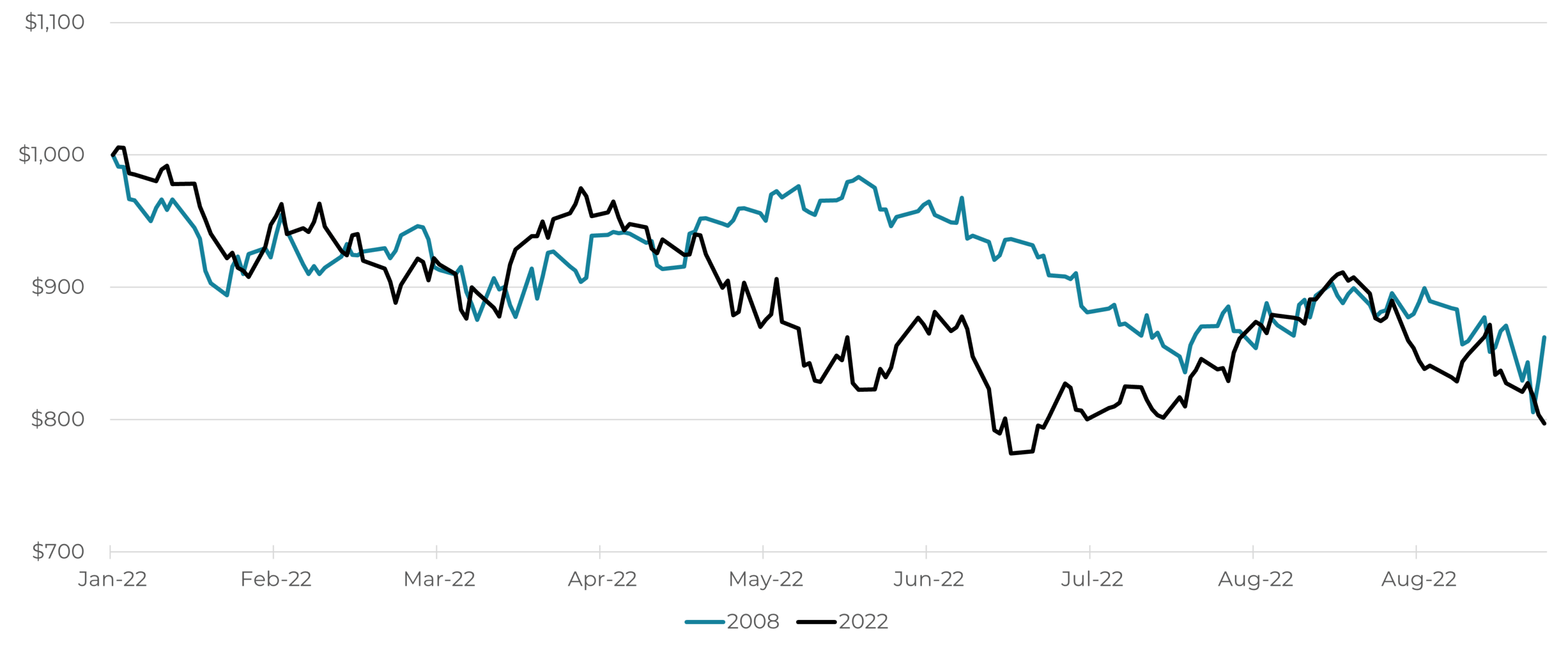 After studying an enormous array of market price data and monitoring daily, it's second nature for us to see similarities between time periods. "That reminds me of…" is a common phrase at Spartan. What is striking about 2022 is how it has, in many ways, mirrored 2008.
The shared characteristics begin at, well, the beginning. Both 2007 and 2021 showed very few fundamental signs of what was ahead. Sure, in hindsight you hear all the stories about warning signs and how you should have known better. However, the reality is that there are always signs that can be misinterpreted as negative for future returns. On the flip side, there are plenty of data points to support a future rally at any given time. Often there are some companies (hello Goldman Sachs!) who publish OPPOSING opinions and stories at the SAME TIME (see images below) to get wide spread sharing for those facing confirmation bias (nearly everyone).


This highlights two important points: investing is hard, and scenarios like today are why we choose to be systematic trend followers.
If you are one of the world's greatest predictors of markets but get it very wrong just once, the downside can be catastrophic. On the other hand, if you can consistently put yourself in the best position to succeed, then it becomes more difficult to get it wrong in a lasting way. This ability to survive is often underestimated but, in our view, is critical to long-term investing success and is key to ultimately thriving.
Once you get your head wrapped around that philosophy, then it's just a matter of ego. Would you rather look smart or win? At Spartan a few of our core investment values are:
Remove emotion from the investing process

Be ready for the "what if", but always deal in the "what is"

Help clients achieve their financial goals by reducing unnecessary risk

Anytime you buy (invest), know what would cause you to sell (divest) 

Anytime you sell (divest), know what must happen to re-buy (invest)
The essential ingredient in helping you reach your financial goals is keeping your and our ego in check. We will always follow the data and do the best we can, even when it doesn't "feel good" all the time. That's what leads to success in business, in your health, and in investment markets. Doing the consistent right thing, even in the face of occasional pain or worry.
This brings us back to 2008 versus 2022. Following systematic investing rules in a disciplined way has allowed us to sidestep a portion of 2022's declines thus far. This goes for both stocks AND bonds. Moreover, with our strategies positioned more conservatively heading into Q4, it leaves us much less exposed if we experience another leg down in either or both asset classes. 
But guess what? 2022 is not 2008, and no one knows for sure what happens next. So just as following our rules allowed us to decisively get and remain defensive, following our rules will also get us re-exposed when and if price trends (the "what is" discussed above) dictate such.
Adding Value at Spartan means the obvious things like seeking superior risk-adjusted returns. But it also means creating an environment where we can help our clients remain on track to meet their goals, whether 2022 is a repeat of 2008 or not. For us, this is where purpose and process meet.
As always, thank you for the opportunity to help guide you and your family toward a stress-free financial life.
David Childs, Ira Ross, and Eric Warren
Disclaimer: this note is for general update purposes related to the strategy and approach of Spartan Planning portfolios. Every client's situation including Risk Profile, Time Horizon, Contributions, and Distributions is different from other clients. Your particular exposure to any given asset class will depend on your goals, risk profile, and how tactical or passive your risk profile calls for. If there have been changes to your risk profile and/or goals or if you wish to discuss them in more depth please contact your advisor. This email and the data herein is not a solicitation to invest in any investment product nor is it intended to provide investment advice. It is intended for information purposes only and should be used by investment professionals and investors who are knowledgeable of the risks involved. No representation is made that any investment will or is likely to achieve results comparable to those shown or will make any profit at all or will be able to avoid incurring substantial losses. While every effort has been made to provide data from sources considered to be reliable, no guarantee of accuracy is given. Historical data are presented for informational purposes only. Investment programs described herein contain significant risks. A secondary market may not exist or develop for some investments portrayed. Past performance is not indicative of future performance. Investment decisions should be made based on the investors specific financial needs and objectives, goals, time horizon, tax liability, risk tolerance and other relevant factors. Investments involve risk and unless otherwise stated, are not guaranteed. Be sure to first consult with a qualified financial adviser and/or tax professional before implementing any strategy discussed herein. Investors should consider the underlying funds' investment objectives, risks, charges and expenses carefully before investing. The Advisor's ADV, which contains this and other important information, should be read carefully before investing. ETFs trade like stocks and may trade for less than their net asset value. Spartan Planning Group, LLC ("Spartan" or the "Advisor") is registered as an investment adviser with the United States Securities and Exchange Commission (SEC). Registration does not constitute an endorsement of the firm by the SEC nor does it indicate that the Adviser has attained a particular level of skill or ability. Indexes are unmanaged and do not incur management fees, costs, and expenses. Spartan's risk-management process includes an effort to monitor and manage risk, but should not be confused with and does not imply low risk or the ability to control risk. There are risks associated with any investment approach, and Spartan strategies have their own set of risks to be aware of. First, there are the risks associated with the long-term strategic holdings for each of the strategies. The more aggressive the Spartan strategy selected, the more likely the strategy will contain larger weights in riskier asset classes, such as equities. Second, there are distinct risks associated with Spartan Strategies' shorter-term tactical allocations, which can result in more concentration towards a certain asset class or classes. This introduces the risk that Spartan could be on the wrong side of a tactical overweight, thus resulting in a drag on overall performance or loss of principal. International investments may involve additional risks, which could include differences in financial accounting standards, currency fluctuations, political instability, foreign taxes and regulations, and the potential for illiquid markets. Investing in emerging markets may accentuate these risks. Diversification strategies do not ensure a profit and do not protect against losses in declining markets