Dear Spartan Client,
"Moving first is a tactic, not a goal."
—Peter Thiel
In the financial services world where so many make a living selling their thoughts and opinions about the future, we find it liberating to be on the opposite side of this norm. We don't make predictions, and we celebrate that fact. Our approach is different, and this difference tends to show up most when discussing market tops and bottoms.
Correctly picking a market top or bottom might give you a quick ego boost, but it has little to do with achieving repeatable investing success. Why? The risk of being wrong is too high both from a "real cost" and "opportunity cost" perspective.
Spartan Planning is not in the business of needing to "guess right" every time. We are in the business of helping our clients stay on the path toward achieving their long-term goals.  The best, and most repeatable, way we have found to achieve this is to build and use a systematic process driven by data, instead of emotions, to make risk-managed investment decisions in the market.
Why does this matter? In this month's Note, we discuss the risk-laden implications of trying to be "right" in U.S. and foreign developed equities by attempting to "buy the dip." It might surprise you, but sometimes using a process that consciously avoids trying to "buy the dip" can generate a better outcome.
Below are the asset classes utilized in our portfolios and their model-driven exposure heading into September.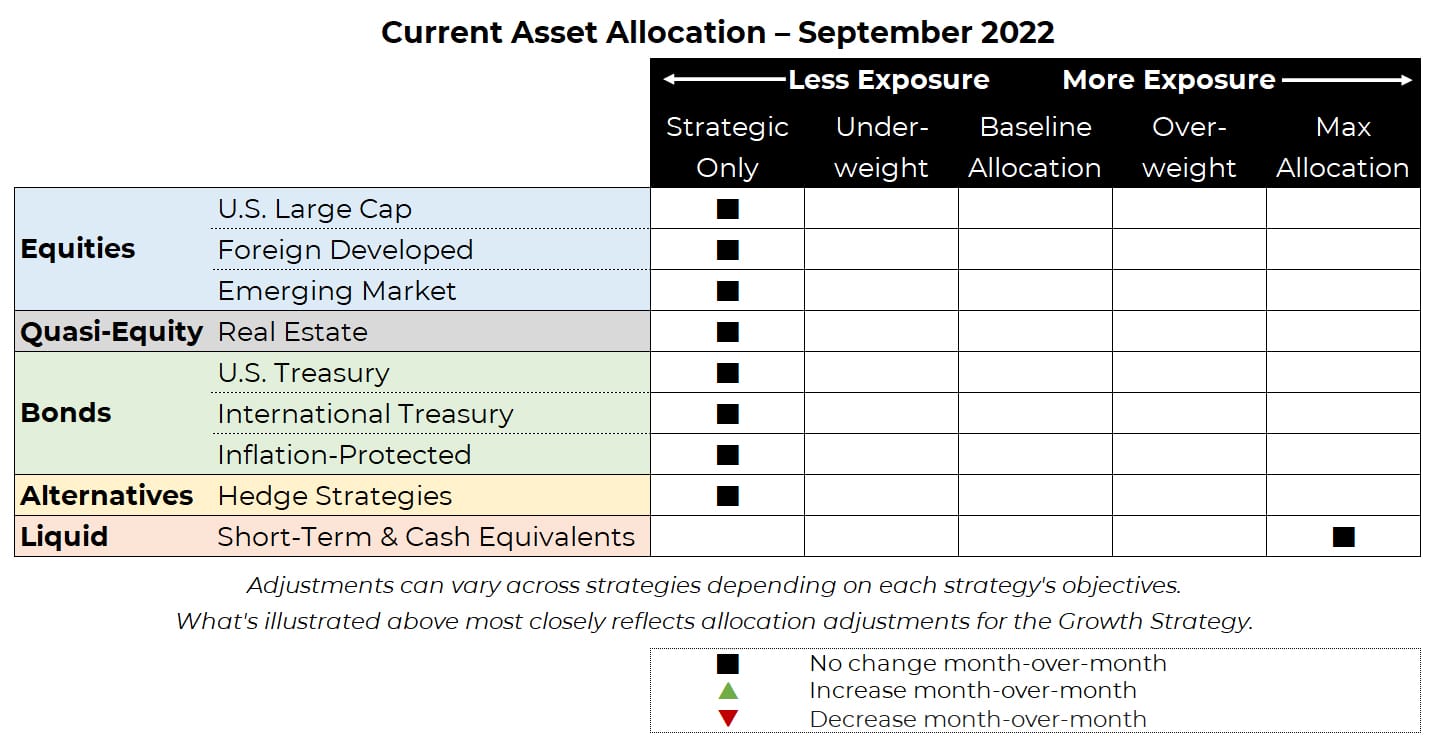 Disclaimer: this note is for general update purposes related to the general strategy and approach of Spartan Planning portfolios. Every client's situation including Risk Profile, Time Horizon, Contributions, and Distributions is different from other clients. Your exposure to any given asset class will depend on your goals, risk profile, and how tactical or passive your risk profile calls for. If there have been changes to your risk profile and/or goals or if you wish to discuss them in more depth, please contact your advisor.
At a Glance: Allocation Adjustments Heading Into September, 2022
U.S. Equities: Exposure will not change from its minimum allocation, as both the intermediate- and long-term timeframes remain in downtrends.
International Equities: Exposure will not change from its minimum allocation, as both foreign developed and emerging markets remain in downtrends across both timeframes.
Real Estate: Exposure will not change from its minimum allocation, as both the intermediate- and long-term timeframes remain in downtrends.
U.S. and International Treasuries: Exposure will not change and is at its minimum allocation due to downtrends across both timeframes.
Inflation-Protected Bonds: Exposure will not change and is at its minimum due to downtrends across both timeframes.
Short-Term Fixed Income:  Exposure will not change, as it is already at its max allocation due to previously taking on exposure from equities, real estate, alternatives, and longer-duration fixed income.
Alternatives: Exposure will not change and is at its minimum allocation due to downtrends across both timeframes.
Three potential macro catalysts for the recent trend changes:
Central Banks:

The central bankers of the world returned to Jackson Hole, Wyoming, after a three-year break due to the pandemic. "For the first time in four decades, central banks need to prove how determined they are to protect price stability," said Isabel Schnabel, who sits on the European Central Bank's six-member executive board. Some economists outside the Fed are increasingly divided over how aggressively the U.S. central bank should continue lifting rates. One camp says Fed officials are still underestimating how high rates will need to rise and think those officials should prepare financial markets for interest rates to climb above 4% or 5%.

Powell's Speech: Speaking at Jackson Hole, the Fed Chairman signaled his expectations, with our own bolding added for emphasis: "Restoring price stability will take some time and requires using our tools forcefully to bring demand and supply into better balance. Reducing inflation is likely to require a sustained period of below-trend growth. Moreover, there will very likely be some softening of labor market conditions. While higher interest rates, slower growth, and softer labor market conditions will bring down inflation, they will also bring some pain to households and businesses. These are the unfortunate costs of reducing inflation."
Rain Needed:

Severe droughts across the Northern Hemisphere – stretching from the farms of California to waterways in Europe and China are snarling supply chains and driving up the prices of food and energy, increasing stress on the global trade system. Parts of China are experiencing their longest sustained heat wave since record-keeping began in 1961, leading to manufacturing shutdowns owing to a lack of hydropower. The drought affecting Spain, Portugal, France, and Italy is on track to be the worst in 500 years. In the American West, a drought that began two decades ago now appears to be the worst in 1,200 years.
Dip-Buying: Trend-Following Edition
"Markets are never wrong, only opinions are."
—Jesse Livermore
By the end of this July, U.S. equities made a substantial move off the current bear market bottom it fell to around mid-June. Despite the increase, it was not enough to trigger an intermediate-term uptrend, and as a result, our exposure did not change. 
This gives rise to a question we frequently hear about trend following: Isn't there a risk that you will re-enter equities "too late" and therefore miss a rally and its opportunities for great returns? Of course. Life is about choices. Investing is about risk management decisions. All choices have pros and cons. The strategy of trend-following just has one of the greatest risk/reward trade-offs that we've found. We will never likely buy the bottom – because no one can ever know when the bottom will be until it's already happened. This is an intentional and inherent part of our process. Given the nature of our process, we encourage our clients to remember that:
1. In sustained falling markets our first priority is to react decisively to limit large losses.
2. When we re-add exposure later, prices may be the same or well below what would have been perceived, at the time, as opportunistic buy-in points – but, in hindsight, were still directionally headed down.
Take the S&P 500 as an example. After the decline in January 2022, the initial, opportunity to buy a dip would have been between 4150-4350 in late January, late February, and/or early March. As August draws to a close, the S&P 500 is actually below those levels. Thus, using a trend-following strategy like ours (which is currently more defensively postured) increases the probability that investors will be able to "buy in" at or below the initial "dip-buying opportunity." This theme has played out for countless decades when comparing trend-following to "classic dip buying" concepts drawn up by academics and advisors. The benefit of following trends, and waiting for them to form, is getting to use relatively recent hindsight to signal a safer time to reengage with investment assets. 
Another, and perhaps an even more interesting example, is foreign developed equities. Using the Vanguard FTSE Developed Markets ETF (VEA), one must go back to September 2021 to find the most recent all-time high. Since then, there have been not one, not two, not three, but 37 new lows! At this point, since a trend-following strategy has been waiting for the price trends to reverse, an investor is likely to re-engage at a price that's around 19% below the initial "dip-buying opportunity", and has not been participating in most of the downward slide for almost 12 months.
When buying an asset below its prior all-time high, you basically have two options:
1. Guess at the bottom (risking too much if you're wrong)
or
2. Follow a set of rules that tells you when to buy (and when to sell)
Following rules will likely never give you the opportunity to be able to tell friends you bought XYZ stock at THE bottom or sold at THE top, but it's a small price to pay if you, like us, are not in this for ego. We are in it to achieve long-term, repeatable success for our clients. Specifically, we are motivated by the idea that you, our clients, can rest easy knowing that your portfolios will systematically and decisively react to what is happening in the markets. That means exiting when risk is high and re-entering when trends strengthen and downside risk tends to be lower. We think this is the most reliable way to avoid unknown declines and participate in unknowable rallies.
We have the benefit of thousands and thousands of hours researching the data. We know things won't always transpire exactly the way we want, but we have complete confidence that we are increasing the odds of your financial success.
As always, thank you for the opportunity to help guide you and your family toward a stress-free financial life.
David Childs, Ira Ross, and Eric Warren
Spartan Planning
Disclaimer: this note is for general update purposes related to the strategy and approach of Spartan Planning portfolios. Every client's situation including Risk Profile, Time Horizon, Contributions, and Distributions is different from other clients. Your particular exposure to any given asset class will depend on your goals, risk profile, and how tactical or passive your risk profile calls for. If there have been changes to your risk profile and/or goals or if you wish to discuss them in more depth please contact your advisor. This email and the data herein is not a solicitation to invest in any investment product nor is it intended to provide investment advice. It is intended for information purposes only and should be used by investment professionals and investors who are knowledgeable of the risks involved. No representation is made that any investment will or is likely to achieve results comparable to those shown or will make any profit at all or will be able to avoid incurring substantial losses. While every effort has been made to provide data from sources considered to be reliable, no guarantee of accuracy is given. Historical data are presented for informational purposes only. Investment programs described herein contain significant risks. A secondary market may not exist or develop for some investments portrayed. Past performance is not indicative of future performance. Investment decisions should be made based on the investors specific financial needs and objectives, goals, time horizon, tax liability, risk tolerance and other relevant factors. Investments involve risk and unless otherwise stated, are not guaranteed. Be sure to first consult with a qualified financial adviser and/or tax professional before implementing any strategy discussed herein. Investors should consider the underlying funds' investment objectives, risks, charges and expenses carefully before investing. The Advisor's ADV, which contains this and other important information, should be read carefully before investing. ETFs trade like stocks and may trade for less than their net asset value. Spartan Planning Group, LLC ("Spartan" or the "Advisor") is registered as an investment adviser with the United States Securities and Exchange Commission (SEC). Registration does not constitute an endorsement of the firm by the SEC nor does it indicate that the Adviser has attained a particular level of skill or ability. Indexes are unmanaged and do not incur management fees, costs, and expenses. Spartan's risk-management process includes an effort to monitor and manage risk, but should not be confused with and does not imply low risk or the ability to control risk. There are risks associated with any investment approach, and Spartan strategies have their own set of risks to be aware of. First, there are the risks associated with the long-term strategic holdings for each of the strategies. The more aggressive the Spartan strategy selected, the more likely the strategy will contain larger weights in riskier asset classes, such as equities. Second, there are distinct risks associated with Spartan Strategies' shorter-term tactical allocations, which can result in more concentration towards a certain asset class or classes. This introduces the risk that Spartan could be on the wrong side of a tactical overweight, thus resulting in a drag on overall performance or loss of principal. International investments may involve additional risks, which could include differences in financial accounting standards, currency fluctuations, political instability, foreign taxes and regulations, and the potential for illiquid markets. Investing in emerging markets may accentuate these risks. Diversification strategies do not ensure a profit and do not protect against losses in declining markets